SilenX 400w Pro iXtrema PSU - Page 1 of 2

This device promises a blend of near-silent performance and strong voltage rails. Brought to you by SilenX, the iXtrema 400W Power supply is something to take notice. Without sacrificing on quality, SilenX does a great job at making the quiet PC possible. Most computer enthusiasts are aware the havoc a weak power supply can cause a system. The inconsistencies and fluctuations in voltage can be very hard on your electrical components, especially for hard disks. Still, new system builders often skimp on this seemingly unimportant device and are then confused when system instability and system crashes randomly occur.



Company Profile (taken from SilenX website):

SilenX began as a system integrator in southern California building computers for small to mid size corporations and home end-users. Since 1995, we have specialized in developing high end systems utilizing the latest technology. As a result of focusing on higher end systems, we have always had a need to build systems with high end cases and high quality cooling equipment. Our experience in the business allow us to practice quality service and support to our customers. Since we have made our debut online, we have been delivering trust and customer satisfaction with every order.

Product Packaging:

The SilenX 400W power supply comes packaged in a sturdy box filled to the top with packaging peanuts and comes tightly sealed in a plastic bag. The device is well protected and there's no reason to believe rough shipping could damage this product. The complete package weighs under five pounds, so don't expect hefty shipping charges either.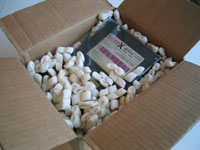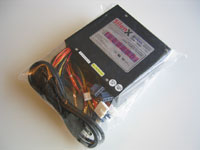 Product Specifications and Features:

Here are the specifications and features as described on the SilenX website. This information would be more useful if posted in both the user manual and the website.

Specifications:

• Passive PFC Circuit
• Low Noise (< 14 dBA fan)
• Load based fan control
• 400W output
• Meets ATX 2.10 specs
• UL, CE, FCC Compliant
• AMD/P4 Supported
• 100k hours @ 25C MTBF
• 80mm Hypro Bearing Exhaust fan
• Silicone vibration damping fan mounts
• Short circuit protection on outputs

Features:

• Input: 115/230V @ 50/60 Hz
• Output: 400W
• 3.3V – 30.0A
• 5.0V – 32.0A
• 12.0V – 18.0A
• < 5% Load regulation
• < 1% Line regulation
• Efficiency: 75% under load
• Over Voltage Protection: 3.3V/4, 5V/6, 12V/14
• Over Power Protection: 105%~150% of max load

Connectors:

• 1x 20-pin ATX Motherboard connector
• 1x 4-pin Extended ATX 12V power plug (for P4)
• 6x Hard disk connectors
• 1x Floppy disk connector
• 1x 6-pin Auxiliary plug
• 2x 15-pin Serial ATA connectors

Quality:

First, we begin by checking out the external features of the SilenX power supply. The primary specifications (voltages, total output, and measured fan dBA values) are printed clearly. Note this particular device is rated < 14 dBA.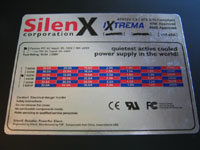 Perhaps for the purposes of reducing noise, this power supply has a single 80mm cooling fan located at the rear. A second would be appreciated, but does not appear absolutely necessary.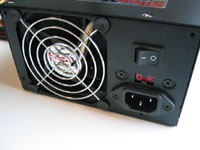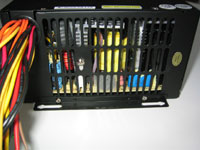 Please read on to the next page for more... Next

Page 1 | Page 2 | Home | Forum | Review Index | Page Views: