Raidmax Cobra 822 ATX Case - Page 1 of 2

Raidtronics, more commonly known as Raidmax, has been in business for 5 years offering a top notch variety of aftermarket PC cases, as well as power supplies and case accessories. They are now trying to make a name for themselves in the gaming market with some new case designs. Today we are going to take a look at one of the new ATX cases that is intended for the hard core gamer, the Raidmax Cobra 822 ATX mid tower PC case.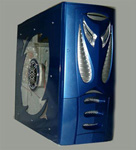 The case showed up at my door packed in just a single box which did have a little crease in it, so right off the bat I was a little worried it may be damaged. However, once I got it unpacked and inspected, I was relieved to see that there was no damage at all. The foam packing inside the box had done its job.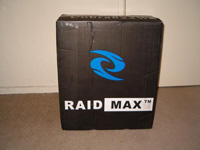 Once you get the case unpacked it would be very hard not to notice the spectacular paint job. Raidmax calls it an automotive quality paint job and I would go as far as to say it is better than most car paint jobs. I only wish my photographic skills were adequate to capture it at its best, but these pictures should give you a good idea of just how nice the finish on this case really is.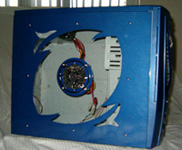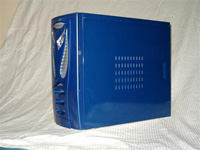 Notice the great reflection provided by the high gloss finish...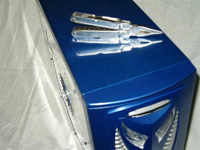 Specifications (as taken from the Raidmax website):

• External Drive Bays:
&nbsp&nbsp&nbsp• 4 x 5.25" and 2 x 3.5"
&nbsp&nbsp&nbsp• Internal Drive Bays:
&nbsp&nbsp&nbsp• 4 x 3.5" H.D.
&nbsp&nbsp&nbsp• System Board
&nbsp&nbsp&nbsp• ATX Form Factor 12" x 10.5" or smaller
• Expansion slots:
&nbsp&nbsp&nbsp• Standard ATX 7 slots
• Material:
&nbsp&nbsp&nbsp• 0.7mm SECC
• Power Supply:
&nbsp&nbsp&nbsp• PS2 size/ 420 watts ATX12V P4 ready Power Supply
• Dimension(WxDxH):
&nbsp&nbsp&nbsp• 200 x 450 x 430 mm

Case Layout:

The internal layout of the case is pretty standard. All drives mount with the use of screws, there are no drive rails or removable drive cages. The 5.25" bays mount on top and the 3.5" bays below.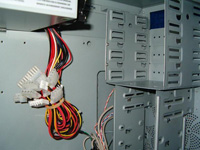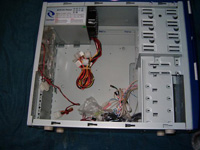 The case does have a somewhat unusual fan layout. There are spots for 4 fans in the front of the case right in front of where the hard drives would mount. No fans are included in these four spots but I did add two 80mm fans here to act as air intakes.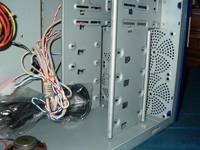 On the back there are spots for two fans and two clear fans with thermal sensors are included with the case. These fans speed up as the case temperature increases, thanks to a little green temperature sensor on each.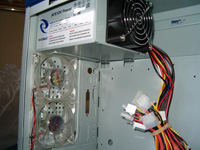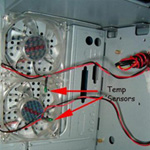 The side panel has a Red LED fan and a laser cut fan grill mounted in the distinctive window.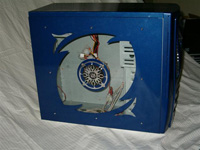 All of the edges are rolled over and rounded so you won't be cutting your fingers on any sharp edges in this case.

Please read on to the next page for more... Next

Page 1 | Page 2 | Home | Forum | Review Index | Page Views: