Leadtek Winfast TV2000 XP Deluxe TV Tuner - Page 2 0f 4
Features (as taken from Leadtek's site):
New Full function Remote control. Easier, friendly fancy user interface.
PIP ( picture in picture): One for live and the other for captured program. And master video can be alternative. The slave video can be displayed with any size and anywhere.
Time-Shifting: you can pause, rewind live television and instant replays. Take your breaks during a TV show or movie and never have to miss a scene again.
De-interlace: Make the best quality for fast-motion video. No noise and flicker on the edge of motion objects.
Capture format profile:Support friendly setting for MPEG-1/MPEG-2/MPEG-4/WMV/VCD/DVD video and MP3/WMA audio encoding format.
Support Video Streaming(WMV/WMA format) for Web Broadcasting and Network Video/Audio sharing.
Provide full version of Ulead Video Studio 6.0 and Cool 3D 3.0 for Video Editing and VCD/DVD/SVCD Authoring.
Support NetMeeting for video conference, you can share TV programs with your long distance friend.
All-in-one control panel: Friendly graphics user interface, not only support TV and FM programs online, also TV captured and FM recorded files playback in playlist.
Support playlist for video/audio playback, several files can be played seamlessly as one file.It can play with a CoolCommand remote control and hot-key with keyboard.
Supports MPEG-1/MPEG-2/WMV video CODEC and MP3/WMA audio CODEC configuration to get the smaller file size for capturing.
Supports De-interlaced function to get high quality of motion video

Make pre-scheduled recordings of TV and FM broadcasting programs, to achieve the features of Video & Audio On Demand
Preset TV and FM channels with preferred name
Watch high-quality TV with dbx-stereo in full screen or a scalable window
Bridging video to PC from VCR, camcorder, LD/VCD/DVD player
Support video mail communication
Optional on-board FM receiver, MTS features
Specifications (as taken from Leadtek's site):
Hardware Interface: 32-bit PCI 2.1 bus mastering
Compatibility: Graphics drivers must include DirectX 8.1 software
Video Standards: NTSC, PAL or SECAM
TV Tune: NTSC, PAL I/DK, PAL BG/DK, PAL M/N, SECAM LL, SECAM BG for respective model
Full 181 channels supported
FM Tuner: Stereo FM 76Mhz ~ 108Mhz (Japan), 88Mhz ~ 108Mhz except Japan)
Video Display: True color overlay in scaleable video-in-a-window
Video Format: RGB32/RGB24/RGB15/YUY2
Drivers: WDM drivers for Windows 98SE/ME/2000/XP
Connectors:


2 F-connectors for RF TV and FM signal inputs
1 MiniDIN 6-pin connector with one S-Video and one RCA connector for Video input
1 Stereo phone jack for audio input
1 Stereo phone jack for audio output 1 phone jack for I/R sensor
Minimum System Requirements:
One available PCI 2.1 compliant slot
Pentium II 300MHz or higher compatible PC 64MB of system memory
MS Windows 98SE/ME/2000/XP
Graphics sub-system with DirectX 8.1 or above
16-bit sound card
Installation / Operation:

The Leadtek Winfast TV2000 XP Deluxe was installed on a system with the following specifications:
AMD XP2800+ cpu
Gigabyte K7 Triton nForce2 Ultra 400 Motherboard
Sapphire Radeon 9600 AGP card
512 MB GeiL PC3200 DDR memory
Hercules GameSurround Fortissimo 7.1 sound card
(2) Maxtor 40 GB ATA-133 hard drives in RAID-1
Windows XP Professional operating system
The physical installation of the card is a snap, but obviously not as easy as the Transcend TV-Box USB 2.0. After powering down the system and popping in the card, I made the necessary connections on the back of my computer... Attached the fm antenna, connected the television cable, connected the remote sensor, attached the mini din cable, and looped the sound from the output of the TV tuner card to the input of my sound card.

Upon startup, Windows recognizes that there is new hardware and leads you through the installation. It installs several drivers from the Leadtek cd to cover all the functions of the card. Once this is complete, the application installation is just as straight forward. At this point I only installed Winfast PVR (the TV application) and the Winfast FM application, and jumped right in.

The picture below gives you an idea of what the program looks like in normal operation (NOTE: the actual TV image below is simulated from a file playback, because you can't do a true screen capture and save the contents like it was a static image. What you have here is a screen capture of my desktop showing the TV application with a "snapshot" of the TV screen taken with the Winfast PVR program itself). Notice the motion of the boys finger results in a blurred capture...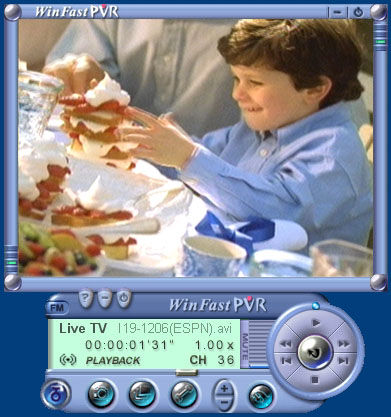 The TV window is scalable by stretching the corners to just about any size you want, and by double clicking on the TV screen you can make the image full screen. A few menu settings allow you to force the image to snap to ratios of 4:3, 16:9, or free (which allows any aspect ratio you stretch the screen to).

The control panel below the TV window contains all the buttons needed, which can also be controlled via keyboard shortcuts and the infra-red remote control. By minimizing the control panel and not the TV window, you are left with the TV window with volume and channel controls docked on the bottom edge. This gives you a nice compact interface with just what you need to see, so you can have the TV running off to one side of your screen while you run other applications.

At this point I noticed I did not have the ability to program recordings via the internet as I assumed I could. I downloaded the latest version Winfast PVR and a new button was available on the control panel which linked me to Titan TV and programming a recording was as easy as pointing and clicking in a web browser!

The picture is clear and sharp, and perhaps due to the higher resolution of a monitor (compared to a tube TV), the picture looks better than on my standard TV. This could also be because my tube TV is 27" and my monitor is only 17", but never the less, it does look good.

Please read on to the next page for more... Next

Page 1 | Page 2 | Page 3 | Page 4 | Home | Forum | Review Index