KHypermedia 8x4x8 DVD+RW IDE Drive - Page 1 of 2

One of the really fun places to go shopping these days is Computer Geeks. They summarize it best on their website:

"ComputerGeeks.com, headquartered in Oceanside, CA, is a leading direct-to-consumer eCommerce site specializing in providing computer-related excess inventory, manufacturer-closeouts, high-demand and unusual computer components and peripherals at highly-discounted prices to tech-savvy, "Geeky" consumers-- you know who you are!"

Computer Geeks has sent over the KHypermedia 8x4x8 DVD+RW IDE Drive for BigBruin.Com to take a look at. I personally had never heard of KHypermedia before now so I made the assumption that this was probably a re-badged DVD burner. Below are front and back shots of the retail packaging showing specifications, compatibilities, and features.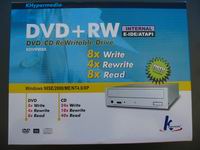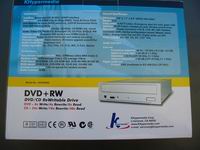 The included accessories are standard for retail packaged optical drives; you get an audio cable, a simple how to install sheet, a 4 pack of screws, and some simple form of software. In this case, that software is Nero Express 6.0. There are some very good CD/DVD burning programs out in the market, but Nero has always been my favorite, and I am happy to see it as the included software.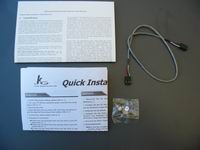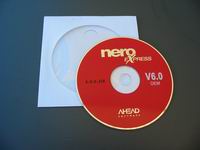 The front of the drive lacks the headphone jack, volume button/wheel, and the play button that were common on optical drives until recently. I never use those functions and am glad to see them omitted. On the back is nothing out of the ordinary; with the 40-pin IDE connector, 4-pin power, master/slave/csel jumper, and both analog and digital audio outputs.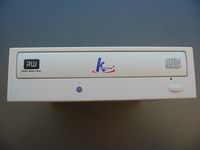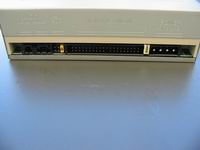 Slicing through the "warranty will be voided" sticker, I opened up the drive to get a look inside. There we see that the Nexperia PNX7850 chip by Philips controls this drive and in the lower corner the board shows DX082D. A little Internet searching reveals this player to indeed be re-badged. It is actually a DX082D Cyberdrive burner.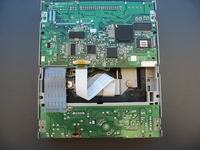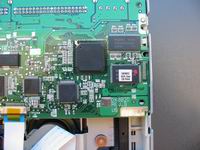 Below is the different speeds advertised for this drive:

• DVD+R Write: 8X
• DVD+RW Write: 4X
• CD-R Write: 32X
• CD-RW Write: 24X
• CD Read: 40X
• DVD Read: 12X

Installation:

Installation was a simple as removing my DVD player and putting the DX082D in its place. Device manager shows this drive as a DX082D but without any name associated with it. Tests were run with the drive on its own IDE channel and jumpered as Master.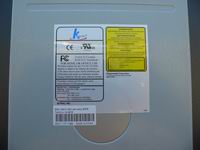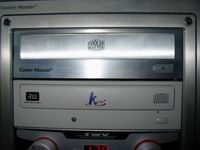 Please read on to the next page for more... Next

Page 1 | Page 2 | Home | Forum | Review Index | Page Views: