Transcend 128MB JetFlash MP3 - Page 1 of 2

With scores of manufacturers making MP3 players, and even more folks making USB memory thumbdrives, it is nice to have a few options that can do both. However, there are still a lot of choices in multi use USB devices. Transcend has come up with a family of USB devices capable of storing data, playing MP3s, and even tuning FM radio. The big question is, does Transcend do it better than anyone else?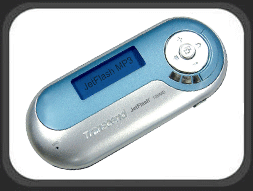 Features (from the Transcend website):

• Compliant with USB 2.0 specification
• MP3 function: MP3/WMA format supports
• Voice Recording Function: WAV format supported
• FM Tuner Function: 10 programmable channels supported
• AB Repeater Function: Continuously replay a designated section of a track
• Up to 15hours of MP3 Playing with one AAA battery
• Up to 32 hours of Voice Recording with 512MB memory and sufficient power
• Driverless (Only Windows® 98SE needs the enclosed driver.)
• Blue backlight LCD display
• 2-year warranty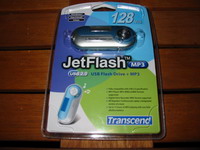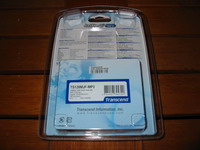 Transcend sent over the 128 MB version of their Jetflash MP3 player. A USB 2.0 thumb drive capable of storing files, playing any of those files that are MP3s, tuning FM radio, even recording FM or voice.

First Look:

The Jetflash is packaged in an indestructible security clamshell that also contains a Transcend labeled set of small earbud headphones, a mini USB to USB cable, a lanyard with quick disconnect, a small CD with drivers, a rather thick instruction manual, and 2 Duracell AAA batteries. This is strange due to the fact that the device only requires one AAA battery.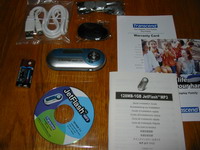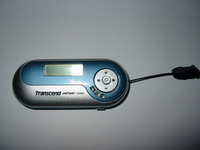 After pulling out the power tools and unleashing the contents, it was time to get to know this player and its capabilities.

The Jetflash drive itself is 3 ¼" x 1 ¼" x ½" and sports a two tone blue/silver body. The 256Mb, 512Mb, and the 1 Gb models all wear a different color. The display is 1 ¼" x ¼" with blue backlighting. The headphones also include a set of foam pads and a 3 foot cable that is not split in the middle like normal, but rather splits 3" from the left earbud. The lanyard is ¼" thick, marked with "Transcend" and their website address. The quick release is right next to the player and seems to be well built. The player ends up hanging about 12" below the neck. (This REALLY depends on the neck of course).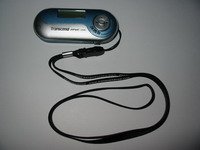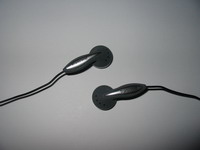 Controls and Layout:

Controlling the Jetflash MP3 couldn't be easier. One 4 position, click to enter joystick and one blue illuminated button make up the major controls. Joystick up/down controls volume and left/right controls track and menu functions. The blue button takes care of power on and off, play, and pause. On the side of the Jetflash is a small button, labeled A/B, that allows you to mark the beginning and the end of a selection you want to repeat. Also on the back is a Hold switch that will render all other controls useless for pocket traveling, or to avoid inadvertent changes.

Power is turned on with the blue button. At this point you get a small animation with the Transcend name, and then the first song in your list scrolls by. Filling the top line of the screen is a battery level indicator, a play or pause box, and volume number 0-63. Along the bottom, mode and elapsed track time/total track time let you know what part of the song you are in.

Pressing the joystick allows you to enter the menu. The menu choices are MP3 playback, FM radio, Record, Voice Playback (WMA), Delete, Settings, and an About screen. Navigating is as simple as scrolling sideways and pressing the joystick. Within the settings menu you have Repeat (normal, rep.1, rep all, and random), Equalizer (with rock, jazz, classic, pop, and normal), Record Rate (with low, normal, high), Backlight (with 5 second and disable) Contrast (with a sliding scale), Power Save (with 5 minutes, 10 minutes and disable), Language (with languages I cannot even spell, 11 total) and of course a way to get back to the music, Exit.

Please read on to the next page for more... Next

Page 1 | Page 2 | Home | Forum | Review Index | Page Views: