Transcend JetFlash 2A 256MB USB 2.0 Flash Drive - Page 1 of 1

Flash drives have become pretty common these days, offering a very convenient means of storage and data transfer from one computer to another. The good people from Transcend have sent us one of their JetFlash 2A flash drives for this review. This particular model offers 256 MB of storage accessible via a USB 2.0 connection (backwards compatible to USB 1.1).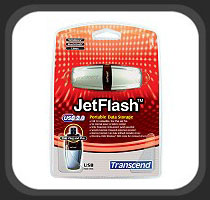 Transcend as been around since 1988 offering a very diverse product line, although they specialize in memory modules for many different kinds of electronic devices. So let's take a look at what you get, and just how well it functions and performs.

Contents:

Packaging is your standard blister pack. Once you get it open you find a multi language users manual, the flash drive, a short USB cable, a handy quick detach neck strap for carrying the drive, a driver CD for Win 98, a warranty card, and a small catalog of other products Transcend offers. Every thing you need, plus a little extra.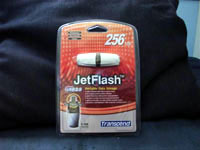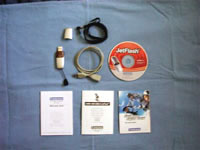 Function and Performance:

Before checking out the actual device, let's take a look at the published specifications and features, as taken from the Transcend website...

Basic Specifications:

• Size: 75mm x 25mm x 11mm (L x W x H, Mini Size), 88mm x 33mm x 15mm (L x W x H)
• Weight:

15g (Mini Size) or 24g
• Data Retention: Up to 10 years
• Shock Resistance: 1,000 G (Max.)
• Durability: 1,000,000 times
• Speed: Read 9.0 MByte/s, Write 8.0 MByte/s (Max.)
• Certificate: CE, FCC, BSMI

Features:

• Fully compatible with USB 2.0 specification
• Easy Plug and Play installation
• Driverless (Only Windows 98SE needs the enclosed driver)
• Powered via the USB port, No external power or battery needed
• Write protection: Write-protect switch provided
• Security Function: Password protection provided
• Boot-Up Function: Can make JetFlash bootable device
• LED indicates the usage status of JetFlash
• 2-year Warranty

My first impression when I held the JetFlash 2A was, "Wow this thing is tiny". As you can see by the pictures below, it is really small and is very light weight, as well.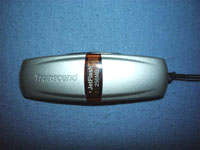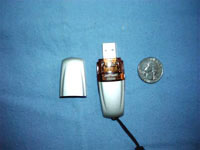 Usage:

Using this USB flash drive is about as user friendly as it gets. I have Windows XP Professional installed, so all I had to do is plug the USB cable into a USB Port on my computer, and then plug the drive into the other end of the cable. Windows picked it up and it was ready to use. If you are running Windows 98 you will have to install the drivers found on the included CD. No formatting was needed and I was immediately able to copy files from my hard drive to the JetFlash drive. The JetFlash is USB 2.0 compliant, but is also backward compatible with USB 1.1. The drive is rated to write at 8.0 MByte/s and read at 9.0 MByte/s a second.

Another nice feature on this flash drive is the write protection switch... When set, data can not be written to, or deleted from the drive. Turn it off and you can do as you wish with any data on the drive. There is also a LED to let you know when the drive is being accessed.

Testing:

To test the performance of the JetFlash 2A I used Sisoft Sandra 2004. The "Removable Storage Benchmark" compares the drive of your choosing against 4 other similar drives in a synthetic match up. As you can see by the results below, the JetFlash 2A faired quite well.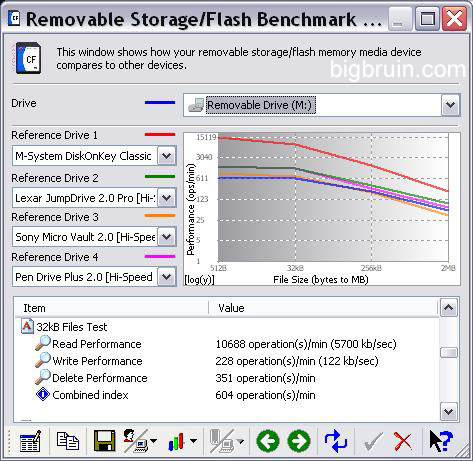 I also did some real world testing of my own, just to see how fast this little drive is. I was able to copy a 180 meg video file off my hard drive to the JetFlash drive in 29 seconds, which works out to just a little over 6 MByte/s a second. This is a little shy of the 8 MByte/s advertised speed, but that could be due to my system or other variables. Then I reversed the process and copied the file from the JetFlash back to my desktop. This process took only 20 seconds which works out to the advertised speed of 9 MByte/s. As shown by the Sisoft Sandra benchmark and my own real world testing this little drive is a speedy performer.

Conclusion:

The JetFlash 2A is a fine little flash drive. Its silver metallic finish is attractive, and it is well constructed. The protective cap that covers the USB connection fits nicely and snaps on with a reassuring click. Likewise, the write protection switch moves smoothly but locks into place with a noticeable click to let you know it is where you want it. The drive could not be easier to use, and the data transfer rates are good, too.

The drive is a little on the pricey side. I found it online for $48-$53, which isn't out of line for a good quality flash drive, although a search of PriceGrabber shows cheaper ones out there (then again, you may get what you pay for). Some places you may want to shop for the Transcend JetFlash 2A, with prices as of the date this review was released:

• Transcend - $53
• Meritline - $52
• Zipzoomfly - $51
• Newegg - $48

I would recommend the Transcend JetFlash 2A to anyone in need of a high quality flash drive. Quality of construction and finish seem to be superb and the worst complaint I could come up with is that the included USB cable is too short. Overall, I rate the Transcend JetFlash 2A 4.5 out of 5 stars, "Readily Recommended".

Final Rating (4.5 out of 5 stars):






Pros:

• Good data transfer rates
• Well built and attractive
• Easy to use

Cons:

• USB cord is too short
• Little pricey

Special thanks to Transcend for providing the 256MB JetFlash 2A to BigBruin.Com for review!

Please drop by the BigBruin.Com Forum and feel free to discuss this review.

Page 1 | Home | Forum | Review Index | Page Views: