I-Rocks X-Slim 6110 and 6120 Keyboards - Page 1 of 1

"Every keyboard's the same: same layout, same size, same function". This attitude among people causes the keyboard to get overlooked when it comes time to upgrade and/or replace hardware. Many people simply use the keyboard that came with their system, the spare one they have laying around, or they go to the nearest superstore and buy the cheapest one they can find. We spend so much time concentrating on the hardware that goes into the computer system, but only put a few seconds of thought into the keyboard. Having fallen prey to the above mentioned keyboard neglect in the past myself, reviewing both the I-Rocks X-Slim 6110 and the 6120 keyboards provided by PCUSA Corp has opened my eyes to the quality and variety of keyboards that are on the market.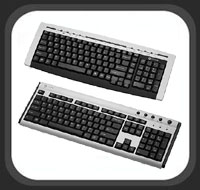 Here is how the manufacturer describes the keyboard features (Taken from the I-Rocks website):

• X-structure makes is softer and more responsive. Low-profile keystroke features like notebook. Ergonomic contour keeys you away from the pain and strain. Slim & streamline makes a great match for your LCD monitor. Over 10 million keystroke life
• In addition to the standard 104 keys, these keyboards include the following additional buttons
• 6110: Internet, Mail, Sleep, Wake-Up, and Power
• 6120: Internet, Mail, Play/Pause, Forward, Mute, +/- Volume, Sleep, Wake-Up and Power
• These keyboards are USB native, and include a USB-PS/2 adapter


| | |
| --- | --- |
| 6110 - X-Slim Keyboard | 6120 - X-Slim Multimedia Keyboard |
| | |
| | |

Now for what I found while testing...

Features / Installation:

While these keyboards technically are similar, there are slight differences. Besides the obvious extra buttons on the 6120, the 6120 is also slightly smaller.

The dimensions:

• 6110 - 500mmX200mmX40mm
• 6120 - 450mmX200mmX30mm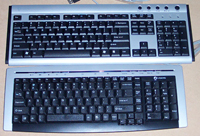 Even through they both contain the same number of keys, the 6120 is smaller because it places the "arrow", Home/End/Delete/Page Up/Page Down/ Insert, and PrtScn/ScrLk/Pause keys right next to the other standard keys. Another difference in the 6120 is the removal of the extra spacing that's commonly found between the F function (F1, etc.) keys.

On both keyboards, there are "feature" buttons that read "Internet", "Mail", "Sleep", "Wake Up" and "Power". The first of these "feature" buttons was a small source of frustration for me while testing. The "Internet" button did just as you would suspect, opening a browser window when there wasn't one already present. One significant drawback to the "Internet" button is that If you click on the Internet button with an browser already open, it refreshes your current browser window instead of opening a new window. Maybe that's how all of these style keyboards work, but personally I would prefer it to open a new browser window. The other buttons worked as labeled, i.e. if you click on the Mail button, it opens your default mail reader. For the Sleep, Wake-Up, and Power buttons to work, your system has to be configured to use those options. The Power button works as if you were performing a shutdown in Windows XP (Start - ShutDown).

On the 6120 model, there are additional "Media" buttons (Play/Pause, Forward, Volume + and Volume -). These function perfectly in Windows Media, PowerDVD and Winamp as long as you have a list of files to play or chapters. If you do not have a list of files or chapters in the video, the forward button does not function as a Fast Forward / Speed control. In other media players such as Nero Showtime and ATI, the Pause option did not work. The Volume controls modify your system volume, not specifically the media player, so they work great in any application (including games).

Speaking of games, if you use any keyboard overlays, they won't function very well on these keyboards unless there's a bit of sticky backing to them. The keys are so low profile that any overlay ends up sliding over the keys very easily and becomes a nuisance.

Both keyboards are supported under Windows ME/2000/XP. There is no mention of them working under any other version of Windows, my only guess would be that that is due to the extra buttons. Using the included PS/2 adapter, I imagine the basic functions of the keyboard would work under any Windows OS.

The drivers (not included with either keyboard) are native to ME/2000/XP, which may be another reason that there is no documentation saying that they are supported under 95/98. Installation was a breeze, just plug into a free USB slot and they keyboard worked perfectly from there. No other configuration was necessary. Being USB, I verified it would work when modifying the Bios. Again, there were no issues with this.

Use / Feel:

Much of how a Keyboard feels is subjective. As such, I will compare these keyboards to the keyboards I currently have in use, Microsoft Natural Keyboard Elite, an IBM Generic Keyboard, and the IBM T40 Laptop Keyboard.

The first thing I noticed in the I-Rocks keyboards was their slim profile. In a standard keyboard there is extra height gained just from the height of the keys. There is very little additional height on these keys from the keyboard base. I know this may sound a bit odd, but take a look at your keyboard -the keys are raised from the keyboard. Laptop keyboards are designed so they are low profile, that you don't have keys sticking out. That's exactly how these keyboards are designed, extremely low profile.


| | |
| --- | --- |
| 6110 - X-Slim Keyboard | 6120 - X-Slim Multimedia Keyboard |
| | |

On my Microsoft Natural Elite keyboard there is a built in wrist rest. Wrist rest options have been popular to help protect against Carpal Tunnel Syndrome. The low profile of these keyboards allow them to be so close to the table top that a standard wrist rest pad doesn't work, as it is higher than the keyboard. Naturally I became concerned about any prolonged use of these keyboards and the damage that may be done to my wrists and hands, but after about an hour of using them I found that the low profile was actually an advantage. I no longer needed to use a wrist rest as my wrist comfortably rested on my desk.

Now as to how they feel when typing. Some keyboards require you to make sure you press on the keys to get them to respond (hard keyboards), while others you barely touch and they respond (soft touch keyboards). This is a soft touch keyboard, similar to laptop keyboards. You barely have to put any pressure on the keys in order for them to respond. There is a bit of a noise when you click on the keys, similar to the noise that comes from a laptop keyboard. It's not very loud, and sounds different from a standard keyboard. Perhaps it's just how I type from being heavy handed.

Conclusion:

Comfort should be a key feature to consider when choosing a keyboard. I'm happy to say that these were some of the most comfortable keyboards I've used.

If you are heavy handed and tend to press keys fairly hard (like I do) these keyboards will annoy you until you become familiar with the feel and noise. If on the other hand you prefer soft touch keyboards, you will love the way these keyboards feel.

Checking around, I found these keyboards to be priced very reasonably. At Newegg, they were both $24.99. Other places had them in the $29.99 - $34.99 price range.

I give the I-Rocks X-Slim 6110 and 6120 Keyboards a rating of 4 out of 5 Stars... "Recommended"!

Final Rating (4 out of 5 stars):





Pros:

• USB - Provided USB to PS/2 Adapter
• Well priced
• Simple, attractive design
• Hot Keys for common features
• Low Profile and Small frees up space on your desk

Cons:

• It would be nice to see the 6120 multimedia buttons included on the 6110
• Other multimedia button such as Fast Forward / Speed Control would be a nice addittion

Special thanks to PCUSA Corp for providing the I-Rocks X-Slim Keyboards to BigBruin.Com for review!

Please drop by the BigBruin.Com forum and feel free to discuss this review!

Home | Forum | Review Index | Page Views: