I-Rocks KR6810 X-Slim EL Keyboard - Page 1 of 1

Today's computer enthusiasts are installing cold cathode fluorescent light tubes, LED lights, and LED fans to brighten up the inside of their computers. With the interior of your computer all lit up, why use a plain keyboard? I-Rocks has introduced the KR6810 X-Slim EL (Electron Luminescent) Keyboard provided to BigBruin.Com for review by the US distributor, PCUSA Corp. At the press of a button, the ivory white keyboard lights up with a soft blue light.

Here's how I-Rocks describes the keyboard features: "X-structure makes it softer & more responsive. Low-profile keystroke features like notebook. Enjoy typing, gaming or surfing the net in a dark environment. Luminescent light with world patent. Over 5,000 hours lightening EL light."

The above statement makes sense, somewhat, but lets move on to look at the retail packaging...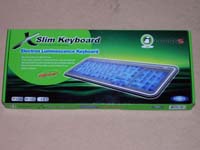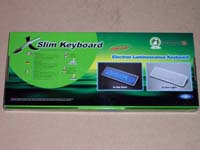 And, out of the box you have the stylish looking keyboard, as pictured below. In addition to the standard keys, this keyboard also includes an "EL ON/OFF" button (in the upper right corner).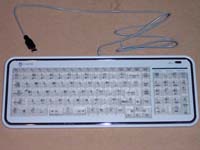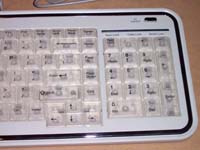 With the keyboard plugged in, and the "EL ON/OFF" button pressed in, you have the soft blue electro luminescent glow...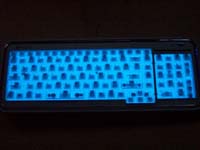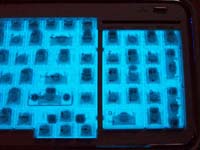 This keyboard is USB native, and PS/2 compatible, but it did not include a USB-PS/2 adapter.

Now for what I found while testing: While most keyboards are similar, this keyboard is a bit different, as it is in a compressed layout. What I mean by a compressed layout, is there is no space between the normal keys, and the "F" keys; the "Home/End/Delete/Page Up/Page Down/End" are all vertical next to the "Enter" key. The "Insert" key has been totally moved to below the right "Shift" button. Next, the arrow keys are in a normal layout, but they are smaller than most keys, and are placed below the right "Shift" and the "End" key. There is nothing different about the number pad.

Installation was a breeze, just plug into a free USB port and the keyboard worked perfectly from there. No other configuration was necessary. Being USB, I verified it would work when modifying the Bios. Again, there were no issues with this.

Much of how a keyboard performs is subjective. As such, I will compare this keyboard to the keyboards I currently have in use; a Microsoft Natural Keyboard Elite, the previously reviewed I-Rock KR6110 X-Slim Keyboard, an IBM Generic Keyboard, and the IBM T40 Laptop Keyboard.

As with the other I-Rocks keyboards, this keyboard has a slim profile. Which means that on a standard keyboard there is extra height gained just from the height of the keys. There is very little additional height on these keys from the keyboard base. Laptop keyboards are designed so they are low profile, so they can close. That's exactly how this keyboard is designed, extremely low profile.

Being used to using a normal keyboard layout, I was concerned whether I could get used to the compressed layout. It has taken some time to get used to, but since the most widely used keys are in the normal position it really wasn't a problem to use them.

I commonly use my computer late into the night, and tend to turn off the lights when typing. The blue EL light this keyboard provides is soft enough not to bother your eyes at night, but bright enough for you to see all the keys. As with the other I-Rocks keyboards with the X-structure keys, this is a soft touch keyboard, similar to laptop keyboards. You barely have to put any pressure on the keys in order for them to respond. There is a bit of a noise when you click on the keys, similar to the noise that comes from a laptop keyboard. It's not very loud, and sounds different from a standard keyboard.

Conclusion:

If you want to give your system a little extra style, this keyboard is perfect. It's very comfortable to type on, and the Blue EL light against the ivory white case gives it just a little extra flash. Perhaps it's the ivory white and silver trim styling, but my first thought when I saw the KR6810 X-Slim El keyboard was that I received a Macintosh keyboard.

Checking around, I found these keyboards to be priced reasonably... $39.99 at Xoxide and $49.99 from Newegg. With similar keyboards priced from $30 - $60, the price is definitely competitive.

Final Rating (5 out of 5 stars):






Pros:

• Great price
• Simple, attractive design
• Low Profile and Small frees up space on your desk
• Blue EL lighted keyboard

Cons:

• Mini style key layout

Special thanks to PCUSA Corp for providing the I-Rocks X-Slim Keyboards to BigBruin.Com for review!

Please drop by the BigBruin.Com forum and feel free to discuss this review!

Home | Forum | Review Index | Page Views: