In-Win 10-in-1 USB Digital Memory Card Reader - Page 1 of 1

Memory card readers have become a common upgrade as people try to simplify the use of all the various media with one integrated device. With cell phones, MP3 players, PDAs, digital cameras, and various other electronic gadgets utilizing a variety of different memory formats, a dedicated interface for each is not practical. I was impressed when ioCombo.com sent over a 9-in-1 card reader for a recent review, but they have "one upped" themselves with the In-Win 10-in-1 USB Digital Memory Card Reader.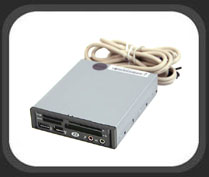 The face of this little card reader is densely packed, as it squeezes the 10 functions listed below in the 3.5" drive sized unit pictured above.

Functions:

01) Supports MultiMedia Card
02) Supports SecureDigital Card
03) Supports Memory Stick Card
04) Supports 3.3V SmartMedia Card
05) Supports Type I/II CompactFlash Card
06) Supports IBM Microdrive
07) Supports XD Picture Card (optional)
08) Supports USB port
09) Supports IEEE1394 port
10) Supports Audio port

In addition to the functions listed above, the following features and operating system information was taken from the ioCombo.com website.

General Features:

• Four sockets support Secure Digital Card, Multi Media Card, Memory Stick, 3.3V Smart Media Card, Compact Flash Card (Type I/II), xD Picture Card and IBM's MicroDrive.
• Allows data exchange in different sockets.
• High-speed USB Rev. 2.0 bus interface. Full-speed USB Rev. 1.1 bus interface.
• Active LED indicators of power and busy (read/write) equipped.
• Supports Mass Storage Class Drive.
• USB powered; no external power required
• Supports Hot-Swapping

OS Support:

• Windows 98/98SE/2000/ME/XP
• Macintosh 10.0.

A quick look and you'll note that although the common Microsoft and Macintosh operating systems are supported, no support for Linux is mentioned. I did not test my theory during the review, I have a feeling that at least the basic functions of the device should be functional in common versions of Linux. One odd not on the OS support involves the software... Generally a CD of drivers is included for Win98/ME on devices such as this, but the drivers and instructions included with the 10-in-1 reader claim to be necessary for Win98 and 2000.

The images below provide a look at the packaging that the In-Win card reader is sold in. Nothing too exciting, but the rear panel does detail many of the features and specifications present.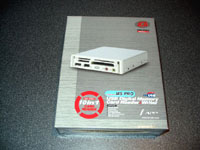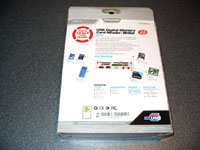 The image below shows the card reader, along with the included installation guide, USB cable installation guide, and driver CD. In this view it is clear to see that the device's wires are bundled into three heavy duty cables; one for USB 2.0, one for Firewire, and one for audio. The quality of the cables is a nice touch, as a simple thing like nice cables makes the overall quality seem that much better.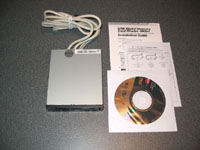 The below left image shows the face of the card reader with the 4 slots labeled for their respective media, 1 USB 2.0 port, 1 Firewire port, 1 microphone jack, and 1 stereo headphone jack. In the upper left and right corners of the faceplate are small LEDs that indicate power and activity. The style is simple, which makes it attractive to me... Nothing gaudy or unnecessarily decorative. Just a design intended to serve its basic function.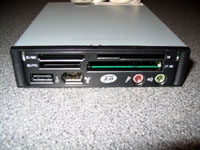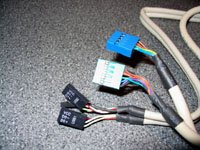 The above right image shows the ends of the cables described previously. The socketed connections and shrink tubing complete the high quality look and feel, and will help to make installation as easy as possible. The blue socket connects to an internal Firewire header, the green socket to an audio header, and the black sockets are for use on a USB 2.0 header (backwards compatible to USB 1.1, if that's what is available). I am particularly pleased with the audio connections being provided in this manner, as other devices I have tried require each pin to be connected separately, which can be difficult to do because of space constraints and poor labeling.

Installation:

Installation is easy, and merely involves the physical installation of the card reader in an open 3.5" drive bay and the connection of the three cables to the appropriate headers. The below left image shows the In-Win card reader installed into the 'floppy' bay of an mATX case, for use as an HTPC. This type of reader makes for an excellent addition to a home theater PC, as it allows easy access to external Firewire devices and the ability to access images straight from a digital camera's memory card, for example.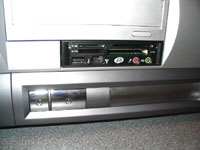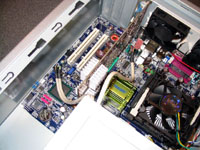 The above right image shows the internal connections made to complete the installation. Sadly, this motherboard does not have a Firewire header, so the USB and audio connections were made, and the computer case was closed back up. Total time for installation was less than ten minutes, and shouldn't intimidate even the greenest of users.

One potential negative may only impact owners of larger cases, or cases where the floppy drive is mounted high up in the case... The cables are of adequate length for this mATX case, and should work well for most ATX cases, but they may not be long enough for larger cases. The audio cable in particular may be an issue, as the audio header is generally near the back edge of the board (as pictured), and could be a long run to a distant 3.5" bay.

Even before I powered the PC up, I noticed the subtle green and yellow glow of the card reader's LEDs. Although an indication of an obvious power management flaw with my motherboard, it did show that the LEDs are strong enough to serve their purpose, but will not be annoyingly bright.

Once booted into Windows XP Professional SP2, I opened Windows Explorer and saw that 4 new drive letters had been added, representing the 4 media slots present on the card reader. Everything was ready for action with zero input required on my behalf. The USB 2.0 and audio ports functioned as expected, and I was able to read/write to my CompactFlash and SmartMedia cards without a hitch.

Conclusion:

The In-Win 10-in-1 USB Digital Memory Card Reader does everything it is supposed to do, and it looks good doing it. Installation and operation are simple, allowing anyone to turn a previously superfluous 3.5" bay into a highly functional little connection panel.

ioCombo.com has the In-Win 10-in-1 card reader for $21.45 in black, or only $20.95 in beige. This price compares quite well with other card readers found during a search of Price Grabber, which reveals the same In-Win reader available from 5 other retailers who can't touch the ioCombo.com price.

Given the style, the ease of use, and attractive pricing, I award the In-Win 10-in-1 USB Digital Memory Card Reader 4 out of 5 stars, "Recommended".

Final Rating (4 out of 5 stars):





Pros:

• Easy installation and operation
• 10 functions in one 3.5" device
• Simple, attractive design
• Well priced

Cons:

• Cables may be too short for larger cases

Special thanks to ioCombo.com for providing the In-Win 10-in-1 USB Digital Memory Card Reader to BigBruin.Com for review!

Please drop by the BigBruin.Com forum and feel free to discuss this review!

Home | Forum | Review Index | Page Views: