Gainward Geforce 6800 GT Golden Sample Video Card - Page 1 of 2

The Gainward PowerPack! Ultra/2400 TV/DVI/DVI 256MB video card is one of the latest offerings from a manufacturer who has been in the business since the early 1980's. The attractive physical layout is backed up by muscle provided by nVidia's GeForce 6800 GT GPU and 256MB of the latest high-speed DDR3 memory.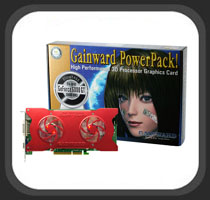 The Packaging:

The Gainward Geforce 6800 GT Golden Sample came packed in nice foam, keeping it safe while being shipped. The model I received happened to be a Dual DVI board. The card came packed with:

• 2 red DVI to VGA converters
• 1 red S-video to RCA adapter
• Drivers Disc
• WinDVD4
• MuVee3
• Arx Fatalis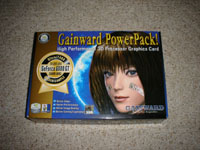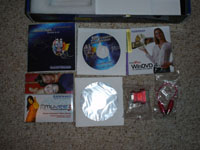 The Software bundle I thought was kind of lacking. The driver disc has 2 different Forceware drivers, Expertool, a Gainward video card overclocking program and tweaking, Arx Fatalis, a RPG style game which I have never heard of, WinDVD4, and MuVee3 video editing software. With hand picked 3D graphics processor and carefully qualified high-quality memory chips, Gainward's famous "Golden Sample"™ products feature "enhance mode" with factory-preset, over-clocked graphics core and memory speeds. Each Golden Sample™ product is guaranteed to outperform NVIDIA standard reference design with rock-solid stability.

The Card:

The Gainward Geforce 6800 GT Golden Sample sports a Red PCB, Dual DVI, a nice copper heatsink with skived fins on the GPU, and it red Anodized heatsinks on the Ram.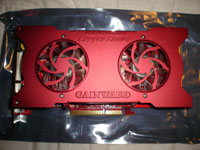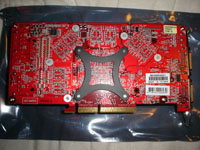 From what I can see Gainward used thick thermal pads on the ram chips, which comes as a bit of a disappointment. As cooling goes, there is a Red Anodized plate that says "High Performance Copper Cooler" and houses the 2 60mm Red LED fans that cool the card.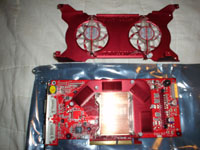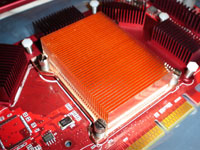 After seeing that the thermal interface material wasn't completely covering the core. I cleaned it off and applied some arctic silver 5.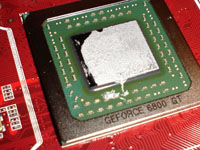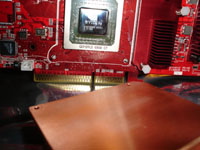 Features (as taken from the Gainward site):



• Integrated NVIDIA GeForce 6800 GT GPU with AGP 8X
• NVIDIA CineFX engine increases horsepower delivers faster and smoother gameplay
• nView Multi-Display Technology allows end-users to select any combination of multiple displays, including digital flat panels (LCD), analog CRTs, and TVs
• NVIDIA's Intellisample's intelligent gamma-adjusted antialiasing and advanced adaptive anisotropic filtering deliver silky-smooth, ultra-realistic visuals at lightning speeds. Say goodbye to the jaggiest for good: your current games will benefit immediately from this state-of-the-art technology, and the games to come will positively rock your world.
• Graphics pipeline for uncompromised precision levels without visual artifacts.
• Digital Vibrance Control (DVC) allows the user to adjust color controls digitally to compensate for the lighting conditions of their workspace, in order to achieve accurate, bright colors in all conditions.
• Unified Driver Architecture (UDA) guarantees forward and backward compatibility with software drivers. Simplifies upgrading to a new NVIDIA product because all NVIDIA products work with the same driver software
• Video Mixing Renderer (VMR) harnesses the power of the 3D graphics engine to empower the user to view multiple video windows simultaneously with superior quality, and avoids the problems associated with video overlay.
• NVIDIA NVRotate™ application for advanced viewing flexibility
• NVIDIA NVKeystone™ application for advanced display correction
• AGP 3.0 support for 8x and 4x and AGP 2.0 support for 4x, 2x, 1x



Specifications (as taken from the Gainward site):



• Gainward's award winning High-Performance/ Wide-Bandwidth™ hardware design powered by NVIDIA's most innovative GeForce™ 6800 GT GPU and integrating the latest high-speed DDR3 memory which offers enhanced, leading-edge performance for the 3D enthusiasts.
• Gainward's unique powerful cooling Fan and Heat Sink
• Support two monitors simultaneously, enabled by the NVIDIA nView Multi-Display Technology for office applications, 3D gaming and professional applications such as CAD, DTP, animation or video editing. NVIDIA nView Multi-Display Technology allows end-users to select any combination of multiple displays, including digital flat panels (LCD), analog CRTs, and TVs, and modify the display properties using an intuitive software interface for more efficient viewing.
• Accelerated DVD playback with enhanced motion compensation in hardware.
• Includes Gainward's award winning EXPERTool tuning utility for customized performance enhancements and efficient desktop management. Also includes performance enhanced, accelerated software drivers for all major operating systems and APIs.
• Easy Plug-and-Play AUTORUN installation from CD-ROM, supports 8x, 4x, and 2x AGP.
• Supports LCD output with DVI connector
• TV-out support (NTSC/PAL) TV system



Please read on to the next page for more... Next

Page 1 | Page 2 | Home | Forum | Review Index | Page Views: