Enermax Noisetaker EG475P-VE SFMA 2.0 470W PSU - Page 1 of 2

Your computer is only as strong as the weakest component. Unfortunately, many people that build their first computer systems opt for "generic" power supplies that come with mid-tower cases. Often, these power supplies are inefficient and their voltages fluctuate greatly. These fluctuations can damage your sensitive electronic components and result in unusual system crashes. Enthusiasts are aware of these issues and look for a power supply that can even keep up with the demands of overclocking. Today we'll see if the Enermax Noisetaker 470W Power Supply (Model: EG475P-VE SFMA 2.0) is up to this challenge.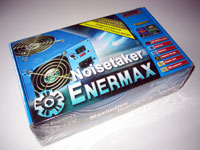 Company Profile (taken from Enermax website):

"Enermax Technology Corporation, founded in 1990, is a leading manufacture for high-end computer products in Taiwan. Maxpoint Computer, Inc. a Subsidiary of Enermax located in Southern California. Enermax itself is a symbol of excellence, a brand name that is recognized world wide and Maxpoint is here to deliver these high end products to the system house, high-end gamming system and retail & online stores.

Maxpoint is much more than a hardware vendor. We work together with our customer for mutual success over the long term business. Our aim is to make our customer stronger, enabling them to solve the most complex business challenges. We do so by listening to our customer, innovating on our behalf, and delivering solutions as part of a result-oriented relationship.

Enermax power supply has been rank #1 for mission critical application and high-end systems. Enermax has always been the leader in the high-end power supply market and always will be."

Product Packaging:

As with most products reviewed here at BigBruin, the Enermax Noisetaker arrived here in one piece. With packaging peanuts surrounding it, the Enermax Noisetaker Box was fine, with everything inside still neatly packed. A sealed bag around the power supply keeps moisture out and protects the finish from scratches.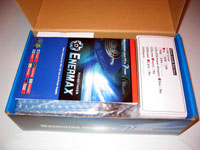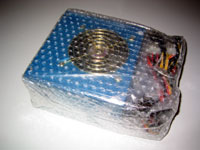 Specifications:

• Model: EG475P-VE (W) SFMA 2.0
• Voltage Rating: 95~135V or 180V~265V (adjustable by switch)
• Frequency: 47Hz~63Hz
• Inrush Current: 60A 115V / 230V max. during cold start
• Output Current Rating +3.3V max/min (0.5A/34A)
• Output Current Rating + 5V max/min (0.3A/40A)
• Output Current Rating +12V1 max/min (0.5A/16A)
• Output Current Rating +12V2 max/min (0.5A/15A)
• Output Current Rating -12V (0A/0.8A)
• Output Current Rating +5Vsb max/min (0A/2.5A)
• +3.3V & +5V: 280W
• Total Power: 470W
• Hold Up Time: 17 ms min. at 115VAC or 230VAC, full load
• Over Load Protection: 110%~160% of max load
• Over Voltage Protection +5V: 5.5V~7.0V
• Over Voltage Protection +3.3V: 3.76V~4.3V
• Over Voltage Protection +12V1 & +12V2: 13.4V~15.6V
• Over Current Protection +3.3V: 55A
• Over Current Protection +5V: 48A
• Over Current Protection +12V1 & +12V2: 20A
• Operation Temperature: 10 degrees C ~ 40 degrees C
• Storage Temperature: -40 degrees C ~ 70 degrees C
• Operating Humidity: 85% relative humidity, non condensing at 25 degrees C
• Storage Humidity: 95% relative humidity, non condensing at 50 degrees C
• MTBF: greater than 100k hours at 70% of full rated load; 230VAC / 50Hz input
• EMC: EN55022 Class B, EN61000-4-2 Class B, EN61000-4-3 Class A, EN61000-4-4 Class B, EN61000-4-5 Class B, EN61000-4-6 Class A, EN61000-4-8 Class A, EN61000-4-11 Class B, FCC Part 15 & Part 2, CNS 13438 Class B
• Safety Approval: UL, cUL, TUV, CB
• Dimension: W150 x H86 x D140 (mm)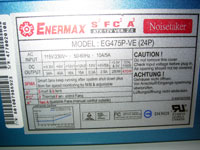 Features:

• Separate 12V Rails
• Smart Fan
• ATX 12V V1.3 compatible
• S-ATA connectors
• Manual and automatic fan speed control
• Extra Power connector
• Reliability
• Copper-shielding
• Dual Fan
• Silence
• FM & FC functions

Enermax has provided a very detailed product manual. To most users the detailed specifications and voltage ratings won't be important. But for those who need it, it is readily accessible. Note the table of contents in the product manual below.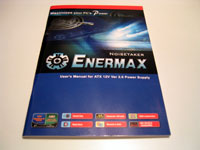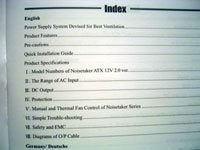 Connectors:

• 1x 20-pin (MAIN) motherboard power connector
• 1x 6-pin (AUX) power connector
• 1x 4-pin (CPU) 12V power connector
• 1x 4-pin (EXTRA) power connector (for 8X AGP graphics cards)
• 7x Hard disk connectors
• 2x Floppy disk connectors
• 4x 15-pin Serial ATA connectors
• 1x 3-pin Fan Monitor connector

Physical Features:

The Enermax Noisetaker looks good. It has a deep blue metallic finish that will look good in a custom case. At least it's something different than your generic unpainted power supplies.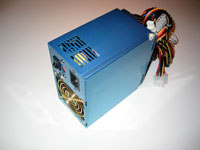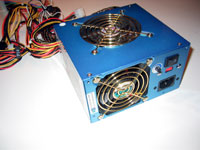 From the outside it looks like your ordinary power supply. The Noisetaker has 2 cooling fans to dissipate the heat the electricity generates. Note the sticker on the back of the power supply "Fans stop till temp. below 40 degrees C after power-off," so this device will quietly continue to remove heat from your system for a brief period after the computer is off. This feature is appreciated because temperatures do climb immediately after system shutdown. Also note the small knob located on the back of the Noisetaker. If your power supply temperatures climb over 40 degrees C, the knob will allow you to manually control fan speed.

However, during testing our unit never got hot enough and moving this knob did not result it any audible change in fan speed. Enermax technical support said this was normal and that a pre-determined temperature (>40 degrees C) needs to be reached before the manual fan control works.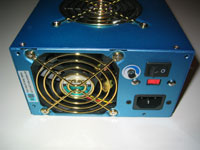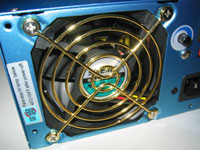 Now although we cannot dispute their claim, Enermax does boldly prints "Best EMI Shielding" on the cable bundle coming from the power supply. This is supposed to prevent harmful electromagnetic pulses from disturbing other electrical devices installed to the same line as the computer.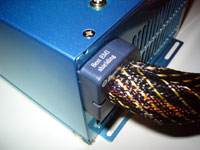 Please read on to the next page for more... Next

Page 1 | Page 2 | Home | Forum | Review Index | Page Views: