Enermax CS-800TA-MW Case - Page 1 0f 2

The name Enermax is synonymous with quality, innovative power supplies and some of the highest quality computer cases on the market. From the Maxpoint website:

"Enermax Technology Corporation, founded in 1990, is a leading manufacturer for high-end computer products in Taiwan. Maxpoint Computer, Inc. a Subsidiary of Enermax located in Southern California. Enermax itself is a symbol of excellence, a brand name that is recognized worldwide and Maxpoint is here to deliver these high end products to the system house, high-end gamming system and retail & online stores."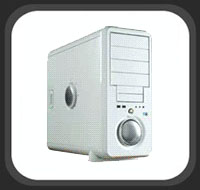 From their distinctive, sloped front, high end, aluminum cases... to some of the best, budget, standard steel cases... Enermax builds quality and features into their cases like no one else. We are going to look at a sample of a new line of cases Enermax calls their Fan Control series. The sample we received from Maxpoint is the CS-800TA-MW in an automotive finish bright white.

This case came packaged very well, wrapped in plastic, with the standard Styrofoam end pieces. With the bright white finish, any small scratch or flaw would have shown up right away. This case arrived perfect. I couldn't find any flaws in the paint at all.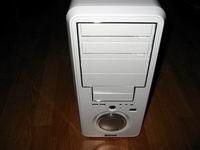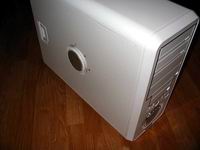 Here are the features from the Maxpoint website…

• Patent adjustable fan speed dial on side panel
• Temp display with blue backlight on front panel
• Meshed fan guard framed with chromium electroplate under bay area
• Side fan with rubber bolts for shock and noise absorption
• Fit ATX, Micro ATX, Extend ATX M/B
• Slot clamp for superior fastening
• Handle for easy side panel assembly
• Streamline arc chassis with silky finish
• Front I/O interface with USB 2.0 x 2 Audio in/out, IEEE 1394

And the specifications:

• TYPE: ATX MID Tower Case
• MATERIAL: SECC 0.8mm
• MAINBOARD: Standard P4 ATX (12" x 9.6"), Micro ATX (9.6" x 9.6"), Extended ATX (12" x 13")
• POWER SUPPLY: ATX PS2 (not included)
• 5.25" DRIVE BAYS: 4
• 3.5" DRIVE BAYS: 2
• 3.5" HIDDEN: 4
• COOLING FAN: Front: 80mm (air in), Rear: 80mm (air out), Side: 80mm (air in)
• Front I/O Interface: USB 2.0 x 2, Audio in/out, IEEE 1394
• Dimensions: D 21" c W 7 Ύ" x H 17"

Features:

Right off the bat we notice a few things that make this case different. There is a large mesh fan grill on the side panel with markings around the outside. This is a very well integrated fan controller Enermax has designed for the rubber-supported fan right behind it. The dial is cleverly disguised as the outer ring of the fan grill. Markings on the side panel show low, medium and high speed with graphics. The circuit for the controller is contained in the hub of the dial and receives power from a 4-pin Floppy style connector. Enermax has included a 4-pin Molex to floppy style connector so you don't have to worry about being short. A 3-pin fan plugs into the other connector on the small circuit.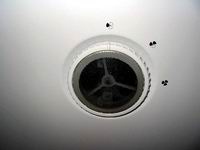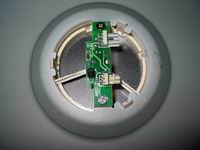 I used Motherboard Monitor to see just what effect the speed controller would have on the stock fan Enermax included on the side bracket. The fan alone plugged direct to motherboard showed 2518 rpm, with the fan on the speed controller and turned to high read 2343 rpm, mid speed 1900 rpm, and with the controller turned all the way down, 1370 rpm. First of all, this is not a high-speed fan; second, high speed on the controller seems to bring that speed down even more. However, the speed change seems linear and does do a good job of quieting down the side fan. Just because the side fan is right behind the speed controller doesn't mean it has to be the controlled fan either, a nice touch in not making it a hardwired obstacle. Also, fan speed monitoring is not possible with this circuit unless modifications are made. I removed the signal wire from the fans 3-pin connector and put it into an empty 3-pin connector so I could plug the sense lead into the motherboard for monitoring.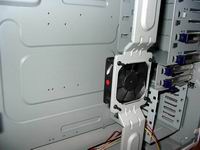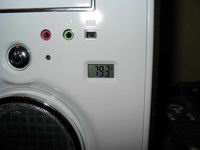 Another nice feature is a small LCD temperature indicator mounted on the front panel. The LCD has a nice blue backlighting and is easily read in both daylight and at night, although it does not photograph well. The LCD is driven by another small circuit board on the back of the removable front panel. There are two connectors that come through a slot in the front panel and need to be dealt with before the front is either removed or replaced. One connector is for the small paper-thin temperature sensor and the other is for power. The power connector goes to a pass through 4-pin Molex connector. One downfall of the LCD is the fact that it only reads out in degrees Fahrenheit. With most CPU temperatures discussed and displayed in Celsius, this would be a welcome change.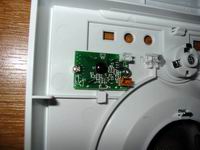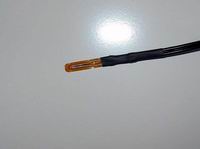 On the front of the case there are also (2) USB 2.0 connectors with shielded cable going to individual single pin connectors, a headphone and mic connector, and a 4-pin firewire or IEEE 1394 connector. This connector is a 4-pin firewire port and will not supply power like its 6 pin bigger brother. I have a portable firewire hard drive in everyday use and if its plugged into a 6-pin firewire port, requires no external power. However, using this port will require an external power supply.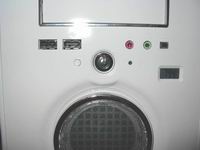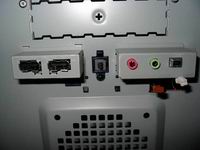 The regular complement of motherboard to case connectors are also there, and connected to each other instead of single conductors twisted together. I do hope this becomes a standard arrangement, it looks much cleaner this way.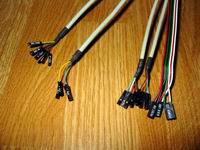 Please read on to the next page for more... Next

Page 1 | Page 2 | Home | Forum | Review Index | Page Views: