Enermax EG325P-VE SFMA 320W PSU - Page 1 of 2

Every computer needs to have a power supply. But which power supply you use could determine if you have enough power, or whether that power is clean and steady. As with about every other piece of computer hardware, there are many choices, offering different features. Today I will take a look at the EG325AX-VE (G)/(W) SFMA 320W Noisetaker provided to BigBruin.Com for review by Maxpoint. Currently I'm using the OEM power supply that came with my case. It's a cheap power supply that is fairly loud, and produces a lot of heat. Let's see if the Enermax is a good replacement.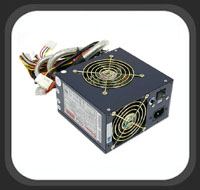 Power Supply Features / Specs (taken from the Maxpoint website):

Features:

• Smart fan: After PC shuts down, cooling fans keep running for at least 2 minutes to effectively cool down parts and hardware inside PSU and PC cases. Thus, ensure longer product life time of power supply and hardware inside PC case.
• Separate 12V rails: Independent 12V rails supply to MB/CPU and drives in order to provide stable and clean current to noise-sensitive devices, such as: CPU, add-on cards. Meet UL 240VA safety requirements
• ATX 12V V1.3 compatible: Support latest P4 and Athlon 64 platforms. For P4 platforms use 865 (Springdale) & 875 (Canterwood) chipsets and even new P4 Prescott and AMD Athlon 64 or later CPU.
• S-ATA connectors: Connect your system to the faster S-ATA interface for better performance.
• Manual and automatic fan speed control : 8cm & 9cm fans automatically controlled by thermostat plus rheostat control over 8cm fan. Enable users to keep the balance between cooling effect and acoustic noise.
• Extra Power connector: Extra 4-pin power connector provides high-end graphic card with stable current.
• Reliability: OCP, UVP, OVP, OLP, OTP, and SCP circuits ensure system well-guarded from any dangers. Maximize safety for your hardware and valuable data.
• Copper-shielding: Effectively reduces electro-magnetic interference that might affect MB and CPU from normal operation. (Valid for models with 370W and higher total power)
• Dual Fan: The best cooling method for PC system, and is strongly suggested by AMD.
• Active PFC function: PF value 0.99 under condition of 230VAC/50Hz at full load.
• Silence: Acoustic noise is successfully reduced with two fans giving more airflow in less rpm and smooth mechanical design of fan guards.

One thing that jumps out at you from the list above is the separate 12V rails. I am very interested to see if there is an improvement in stability on the 12V line during testing with this feature.

Specifications:

• Model No.: EG325AX-VE (G)/(W) SFMA
• DC Output - Maximum Current
&nbsp &nbsp• +3.3V - 28A
&nbsp &nbsp• +5V - 28A
&nbsp &nbsp• +12V1 - 12A
&nbsp &nbsp• +12V2 - 11A
&nbsp &nbsp• -12V - 0.8A
&nbsp &nbsp• +5Vsb - 2.5A
• Total Power: 320W

First Looks (Box):

The retail packaging for this power supply is very eye catching. The front of the box calls out what it is, without providing lots of detail. The details are left for the side panels and the back side.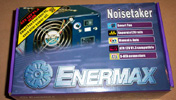 The right and left side panels are identical, just in different languages.

The top side panel gives a nice Fan Noise to System Load chart that is easy to read and follow. The same panel also includes a chart of the Output rating for each model of the Noisetaker seriers. Finally, the back side gives detailed information on the features of the Power Supply. These are both in English, and French (I believe it's French anyways). This information is the same as what's listed above in the Features section.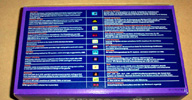 First Looks (Power Supply):

After opening the retail box, you're greeted by the Power Supply manual, that is translated in several languages, to include English, French, Korean, and others. There is also a box that contains the three accessories, Power Cable (not pictured – I think we all know what they look like), four mounting screws, and an Enermax sticker.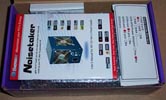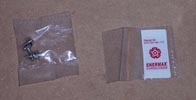 Removing the manual, you get your actual first look at the power supply, at least through the bubble wrap. It's well protected in the bubble wrap so to avoid any scratches or dents in the finish. With the bubble wrap and a second plastic bag removed, you can finally see the power supply in all its glory.

Looking over the power supply, the first thing I notice is the paint finish on it. It's done in a really nice looking blue metallic finish. It's a very high quality finish, and just shows the quality of the power supply.

On the bottom, is a huge 120mm crystal fan. Through the fan grill you can see some of the components of the power supply. On one of the sides is the standard label that gives you the model name, and various power ratings. In this picture, you can also see the molex connectors, they are made of copper, and put together very well.




Finally on the back side, there is an 80mm exhaust fan, along with a fan speed dial. Can't forget the normal power plug socket, and the hard on/off switch. Something that is missing from this power supply though, is the 110/220 switch. Where the switch usually is, there's a metal plate that says "Universal". This power supply will automatically adjust itself for your power.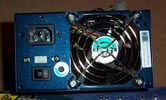 Here's a snapshot of the inside of the power supply. You can see the heatsinks which are very effective. After running under a load for 24 hours, the heatsinks were still touchable.




There are many cables coming off the power supply, let's see what connectors they provide us. There is the normal connectors: Mesh Wrapped ATX Power (1), Mesh Wrapped (and shrink tube wrapped individually) 12V Motherboard 4-Pin (1), Auxillary Cable (1), Dedicated 4 Pin Molex (1). There is a separate 3-Pin Fan Connector (1). On a partially shrink tube wrapped bundle there are 4-Pin Molex (5), and Floppy Drive connectors (2), and SATA connectors (2). This is where the power supply get's it first negative point. It's great they partially wrapped the cables, even fully wrapped some. BUT why not finish them off and fully wrap all of them.




Please read on to the next page for more... Next

Page 1 | Page 2 | Home | Forum | Review Index | Page Views: