Enermax UC-A3FATR2 3.5" Multifunction Panel - Page 1 of 1

Fan controllers have nearly become a necessity for computer enthusiasts interested in getting the most out of their systems, while also maintaining a tolerable level of noise. We've looked at enough fan controllers here at BigBruin.Com to know they come in all shapes and sizes, but to me, smaller is definitely better. Enermax offers a product, the UC-A3FATR2 3.5" Multifunction Panel, that appeals to my desire to keep my 5.25" drive bays open for use with drives. Prior to owning the UC-A3FATR2, I had a 5.25" bay device for thermal monitoring and a 3.5" bay device for fan controller, and with 2 hard drives installed with cooling fans, I was unable to also have an optical drive installed... uncool.

The data below is taken from the Enermax site, and provides the basics on the UC-A3FATR2...

Features:

• Aluminum alloy, suitable for 3.5" bay
• Fan speed adjustable function
• Temp monitoring for CPU.HDD.System,P.S.
• Fan & temp Alarm function

Specifications:

• Model: UC-A3FATR2
• DC INPUT: +5,+12V (standard 4 pin connector)
• LCD DIMENSION mm: 28 x 11
• LED LAMPS: Blue LED 3.0V x 2
• MATERIAL: ALUMNIUM
• 3Pin Fan Connector: 2
• Fan RPM Knobs: 2
• Max Amperage / Voltage for each VR Knob: (0.8A) / (10W/12V)
• Other Connectors: None
• Accessory: Screw x 4,Sticker
• DIMENSION(WxHxD)mm: 101.5 x 25 x 90

The Enermax UC-A3FATR2 is sold in the Barbie inspired pink and yellow blister packaging shown in the below left image. Not the most macho presentation, but at least its not one of those packages that can only be opened once because have to destroy it to get the product out. The below right image shows what is included... The UC-A3FATR2 with all cables pre-installed, a brief User's Guide, and a plastic bag containing mounting screws, stickers to identify what temperatures are being displayed, and some tape for mounting the thermal probes.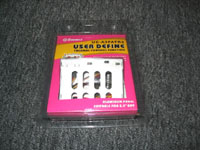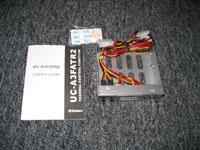 The below left image shows a close up of the UC-A3FATR2's face. The left side features two tiny knobs for controlling fan speed, a compact LCD display is in the middle, and three buttons are found on the right side. One button switches between displays of the two fan speeds/temperatures, another allows the user to set alarm points, and the third allows for a reset of the alarm settings. The knobs are so small that they are a bit difficult to grab hold of. Even if the diameter was kept the same, having them project out a bit more may be helpful.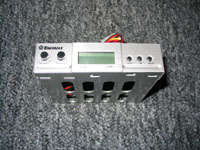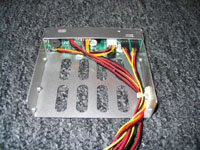 The above right image shows the back of the UC-A3FATR2. All of the cables are installed for you, and routed through a cable clip that acts as a strain relief. In addition to the power input connection, 2 thermal probe leads, and 2 fan control leads, there is a small speaker which indicates low fan speed or high temperature.

The below left image shows a side view of the device, which reveals the mounting holes for use in any 3.5" bay. This image also reveals that although the device is supposedly aluminum, it has a metallic silver finish, which is fine with me. The below right image gives an idea of the cable lengths for everything included. The incoming power connection and fan power leads are of a decent length, but the two thermal probe leads are really long. I could measure temperatures in the next room (slight exaggeration), but too long is better than too short, as excess length can always be tucked away in some unused recess of the case. Another nice touch is that each cable has a small sticker identifying its function, which will help facilitate an easy installation.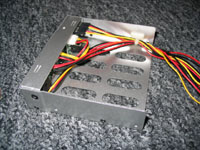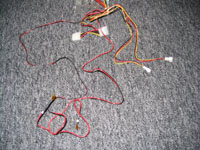 Installation/Operation:

Installation took me a little while, as I was routing cables cleanly and had many devices to rearrange, but the UC-A3FATR2 itself wasn't too taxing to get in and running. The final installation has the device monitoring the temperature on my northbridge and CPU, as well as monitoring fan speeds on the northbridge's fan, and the water cooling system's 120mm radiator fan. The images below show the device in action in ambient lighting and dark conditions. As you can see, reading the display is easy no matter what...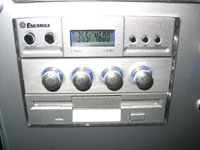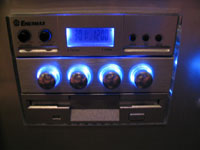 One aspect of the operation that irks me is that the alarm resets to default settings upon every start. So, if your want something other than a 1000RPM low speed limit or a 45C high temperature alarm, you need to manually adjust this at every start up. The alarm has only sounded a few a times so far, and although it is loud enough to get your attention, it is not as obnoxious as many alarms I have experienced. It reminds of a wrist-watch alarm clock, with a "beep-beep-beep-beep... beep-beep-beep-beep" pattern.

From the images above, it can also be seen that this device won't solve all your problems if you have more than two fans to control. Previously, I had similar fans doubled on outputs of the 4-channel device installed just below the UC-A3FATR2, but now each has their own controller. But, the main accomplishment was the elimination of the 5.25" bay device that solely monitored temperatures, and I was once again able to put an optical drive into this system!

Conclusion:

Overall, I am extremely pleased with the UC-A3FATR2. It doesn't do as much as some fan controllers out there, but it does just what I wanted, and doesn't require a 5.25" bay to do it. The design is solid, installation won't strain your brain, and the appearance is simple and attractive. The UC-A3FATR2 isn't one of the newer offerings from Enermax, but extensive searches proved it is one of a very few devices that can provide this type of control in a 3.5" bay device.

The Enermax UC-A3FATR2 can be found online in the ballpark of $20 US, and two places worth checking out are Jab-tech and Tiger Direct.

Although I list nearly as many "Cons" as "Pros", they are minor issues, and my overall satisfaction with the UC-A3FATR2 earn it four out of five stars... "Recommended".

Final Rating (4 out of 5 stars):





Pros:

• Attractive appearance and solid design
• Effective two channel fan controller and dual temperature sensors in one 3.5" bay
• Lighting is mellow and effective
• Alarm is audible, but not annoying

Cons:

• Small knobs/buttons can be difficult to operate
• Alarm set points reset upon every start
• Extremely long leads on thermal probes

Please drop by the BigBruin.Com forum and feel free to discuss this review!

Page 1 | Home | Forum | Review Index | Page Views: