Corsair TwinX 1024 PC3200XL Memory - Page 1 of 2

System memory is the second most important component in a computer (other than a processor) to someone interested in overclocking. When it comes to memory, the statement "you get what you pay for" couldn't be more true. With the wide variety of manufacturers on the market, differences in quality are often the case. Those who have overclocked their systems before know the extra cash you put towards better memory is usually worth it. With better quality RAM you can expect higher front-side-bus (FSB) speeds, better benchmark results, and more system stability. Today we'll see how well the Corsair TwinX 1024 PC3200XL Memory package performs with stressful FSB increases.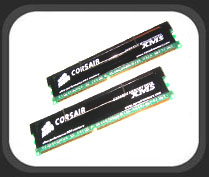 Company Profile (taken from Corsair website):

"Corsair has earned a reputation of consistently being first to market with quality leading-edge products that support new computing platforms and technologies. Each stick of Corsair memory is specifically designed for rock-solid performance in the most demanding of applications. Corsair has a long history of cooperation, qualification and collaborative testing with the major motherboard and systems manufacturers. Often we are first to market with reliable memory for the latest systems."

Product Features & Specifications:

The images below show the Corsair TwinX 1024 PC3200XL Memory as it is sold in a retail style blister pack. The back of the packaging features a few of the many awards it has won on other sites, as well as a few snippets from other reviews...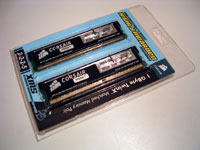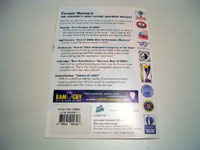 Out of the packaging, you get a good look at the green PCB under a black heatspreader held on by a steel spring, which is a bit different than the standard pair of clips...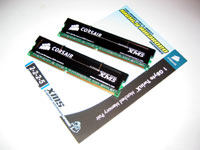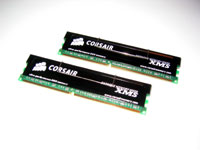 Below you will find the specifications on the memory being tested today. Note the low latency timings (2-2-2-5). Please note timings will be represented in this format for the duration of the review: For additional information you can try Corsair's TwinX 1024 PC3200XL spec-sheet. (Adobe Reader will be required).

Corsair Memory Specifications:

• Speed: XMS PC3200 (DDR400)
• Size: 1024MB (1GB)
• Latency: 2-2-2-5
• Package: 2x184 DIMM
• ECC: No
• Corsair's test voltage: 1.75V (w/200FSB)
• Heat spreader: Black

Understanding which memory modules are used on a stick of memory is important information. After pulling back the heatspeaders on this 2x512MB package of matched memory we discover Corsair has installed Samsung memory modules in this particular memory model. Below are the detailed markings located on the modules. (Please note the 3rd line was very faint and difficult to read, it may not be 100% accurate).

Samsung Memory Chips (Used on this Corsair RAM):

• SAMSUNG 431
• K4H560838F - TCCD
• H56 8 AQF340P1
After a quick trip to Samsung's website, a search on K4H560838F yields the following information about the modules.

Samsung's provided specs on K4H560838F Chips:

• 200MHz clock, 400Mbps data rate
• VDD = +2.6V
• Read latency 3 (clock) for DDR400
• Speed @CL3 200MHz (3-3-3)
• Speed @CL4 200MHz (3-4-4)

This is interesting, because Corsair promises lower latencies than Samsung rates its own modules. Testing will conclude if Corsair's claims hold up.

Test System:

The test system for the Corsair TwinX Memory is below: System Specs: • AMD Mobile Athlon XP2400+ (1.45v) Processor w/Thermalright SLK947U and 120mm Vantec Tornado • DFI nForce2 Ultra Infinity 400 Rev. A (BIOS 7-28-2004)
• 2x 512MB Kingston HyperX PC3000 Memory (KHX3000K2/1G)
• 2x Maxtor 80GB Hard disks in RAID-0
• 2x Optical Devices (CDRW, DVD-ROM)
• ATI Radeon 9800 Pro 128MB Videocard
• Vantec Nexus Fan Controller (controls Tornado and 2 CCLs)
• 1x PCI Device (Highpoint RocketRAID 454)
• Antec Performance One P160 (Super Mid Tower) Case
• 2x 120mm Case Fans

Please note the Kingston HyperX PC3000 memory currently installed in the system will be used for comparison purposes. Also note the Kingston memory is not rated nearly as high as the Corsair and may fail well in testing well before the Corsair memory.

Installation:

The 512MB sticks were installed such that they populated memory slots DIMM1 and DIMM3. After the installation, the system acknowledged the Dual Channel Mode and I proceeded into the BIOS. The timings for the memory were automatically defaulted to Corsair's promised 2-2-2-5 timings. To test the memory at its advertised settings I first upped the system FSB to 200MHz with a system multiplier of 10. For the remainder of the tests the multiplier was not changed. For consistency, the following changes were made in the BIOS at this time: enabled CPC, Disable CPU Thermal Throttling, locked AGP/PCI to 66MHz, set DDR DRAM Clock 1:1, CPU Voltage: 1.75V, AGP Voltage: 1.70V, CHIPSET Voltage: 1.70V, and DRAM Voltage: 2.80V.

With the above criteria, I tested to ensure Corsair's memory could at least perform at its guaranteed specs. Sure enough, at 200x10 with a DRAM voltage of 2.8V and 2-2-2-5 timings everything ran fine. Memtest 86 gave no errors and the overclocking tests proceeded.

Overclocking:

The overclocking results are what most users will be most interested in. My first goal was to determine the maximum FSB I could achieve (with stability) with the aggressive 2-2-2-5 timings with a DRAM voltage of 2.8V. I decided "stable" would mean Memtest 86 (v3.1) could run continuously without any errors at all. Doing so, I found the ceiling of the Corsair to be 214MHz (DDR428). After upping the DRAM voltage to 3.0V the FSB could be raised to 217MHz. However these settings could not always be reproduced (sometimes resulting in a few errors), so are listed only for completion.

From this point, I continued to loosen timings with a constant DRAM voltage until I reached a FSB of 220 and then 240. Getting to 220 required relaxing the timings to 2.5-3-3-6. Using the same timings I also got the ram to run without error at the 240 FSB. Using these timings I was able to up to FSB to 250 before Memtest started giving errors. Unfortunately Windows would not boot until the FSB was lowered to 246. This appears to be the limit of either the memory or the DFI Infinity motherboard itself. I should note, upping the voltage for each of these tests only resulted in a very small increase in stability. A +0.20 voltage increase usually allowed an additional +1 or at the most +2 FSB increase before errors developed.

Please read on to the next page for more... Next

Page 1 | Page 2 | Home | Forum | Review Index | Page Views: