Acousti Products AcoustiPack Standard - Page 1 of 1

As computers become more powerful, greater effort is required to keep components cool, which in turn can lead to more noise. Quieting computers has become a big business. Most manufacturers are now taking steps to minimize noise while maximizing performance, but other companies have stepped in to offer even greater noise reduction for the users who demand near silence. One of the new companies focused on reducing the noise from today's high powered PCs is Acousti Products.

Acousti Products is an English company that produces computer accessories intended to back up their motto of "ultimate noise reduction solutions for the computer industry". BigBruin.Com recently published a review of another one of their products, the 120mm AcoustiFans, and this review will focus on the AcoustiPack Standard soundproofing solution provided by Quiet PC of Chicago Park, California.

The AcoustiPack kit comes in the box pictured in the below left image, which is delivered from Quiet PC in another well packaged box. Considering the nature of the product, the great care taken to protect it may seem excessive, but better safe than sorry. The standard AcoustiPack kit consists of three 495mm x 395mm sheets (pictured in the below right image), which provides a total of 5,865 square centimeters of coverage. First impressions tell me that this seems to be more than enough to do a thorough job on any standard mini, mid, or perhaps full sized case.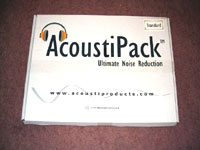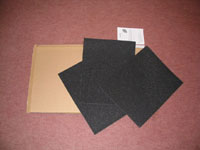 Each sheet of soundproofing is 7mm thick and consists of two distinct layers, as shown in the image below. The top layer is referred to as "Acoustic Foam" and is 5mm thick open cell foam. The lower layer "Acoustic Barrier" is 2mm thick and consists of a much higher density material. Below these layers is the adhesive backing which is quite tacky and should provide a strong hold on any surface chosen. 7mm thick may not sound like much, but this stuff is definitely heavy duty. The pack weighs in at 2.7 kg, which is roughly 6 pounds of soundproofing!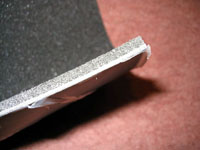 Installation isn't particularly difficult, especially after consulting the official fitting guide. The material is easy to work with and can be trimmed to fit with minimal effort. The only challenge is deciding exactly how to fit it to your specific case, and making sure that the material provided is used to cover as much of the internal surfaces as possible.

The system that this kit will be installed on is housed in an AMS gTower aluminum mid-tower case. Most of the components in the case were chosen to minimize noise, and the AcoustiPack will hopefully bring it a few notches closer to being silent. With an Innovatek water cooling kit for the Intel P4 2.6C and Radeon 9600XT, passive cooling on the Northbridge and other chips, two 120mm AcoustiFans connected to a fan controller, and a 500W power supply with variable speed fan, the system already runs very quietly.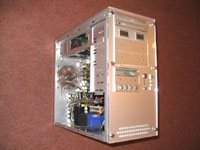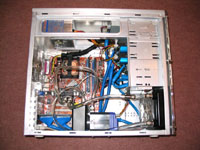 For my particular installation I decided to mount the AcoustiPack to the following locations: left side panel, right side panel, top panel, and rear panel next to the expansion slots. No soundproofing will be applied to the front of the case due to the lack of surface area found with the radiator, fan controller, and nearly full drive bays.

The images below show glimpses of the completed installation before closing the case back up.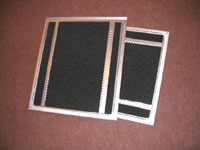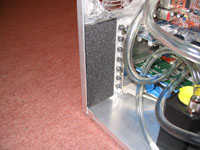 Once I had covered the areas chosen, I still had plenty of AcoustiPack left for future use. The image below shows one full sheet and a few decent sized scraps which were left over that I intend to hold onto for future use.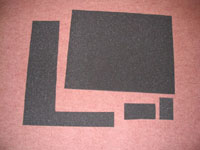 With the installation complete, the system was powered up and despite the noise level being low to begin with, it was easy to distinguish that it was now even lower. Most noticeably, the higher frequency portion of the noise from the case was nearly eliminated and the resulting sound was now a low, dull hum. For those interested in this product for a system that may not be as quiet as mine was to begin with, I have a feeling the noise reduction may be even more drastic. I was skeptical that I was going to accomplish any noticeable noise reduction due to the openings in the case for the 120mm fans and elsewhere, but it did in fact make a difference.

The noise insulation portion of this product worked as advertised, but I had concerns regarding potential thermal insulation as well. Covering all these cool aluminum surfaces in thick foam may have an adverse effect on system temperatures so I monitored them in four locations before and after installation.

Using software provided with the Abit IS7-G motherboard installed in the system I monitored the CPU and System temperatures, and with external temperature probes I monitored the Northbridge and hard drive temperatures. The chart below details the operating temperatures in degrees Celsius at these four locations, while maintaining a constant ambient temperature of 21 Celsius:


| | | |
| --- | --- | --- |
| Component | Without AcoustiPack (C) | With AcoustiPack (C) |
| CPU | 37 | 37 |
| System | 33 | 34 |
| Northbridge | 47 | 49 |
| Hard Drive | 44 | 44 |

As you can see the temperatures rose slightly as measured at the Northbridge and for the system. The Northbridge is the only temperature that is too high for my liking, but it was that way before installing the AcoustiPack. I had removed the stock heatsink/fan for a passive heatsink to reduce noise, but due to the elevated temperatures will be trying a new Northbridge cooler from Microcool in an upcoming review.

For those concerned that the foam may create a fire hazard in your system, Quiet PC has the following to say; "the acoustic materials, including the adhesive, have been carefully selected and thoroughly tested to meet flammability standards." So, even with slightly elevated temperatures in some areas, I have no concern with the temperatures becoming unsafe for system stability or any type of fire hazard. Although I'd rather have no temperature rise anywhere, different case configurations may result in different thermal conditions, but I am fairly confident that the noise reduction will be universally well appreciated.

Conclusion:

The AcoustiPack soundproofing kit definitely helps Acousti Products achieve their goal of providing the "ultimate noise reduction solutions for the computer industry". The noise reduction achieved on my already quiet system was impressive, and I am confident that a louder system would benefit even more from the installation of this kit.

In addition to some temperatures rising slightly, the major downside to installing such a high quality soundproofing kit is the price. At $65.95 (US, as of the time of this review) from Quiet PC, many may find this too prohibitive and may opt to try and improvise their own sound insulation. But, for those serious about reducing their computer noise, the price could be worth it for the convenience, quality, and ease of installation. For those seeking even greater noise reduction, there is a Deluxe AcousitPack kit which includes different shapes and sizes of soundproofing to tackle even more areas of your case.

The noticeable noise reduction and high quality material/design earn the Acousti Products AcoustiPack Standard soundproofing kit 4 out of 5 stars, "Recommended".

Final Rating (4 out of 5 stars):





Pros:

• Effectively reduces noise
• Simple installation
• More than enough material provided
• High quality material/design

Cons:

• Price
• Slight temperature rise

Special thanks to Quiet PC for providing the Acousti Products AcoustiPack Standard to BigBruin.Com for review!

Please drop by the BigBruin.Com forum and feel free to discuss this review!

Home | Forum | Review Index | Page Views: