Eumax 9-in-1 Removable Card Reader - Page 1 of 1

Up for review today is the Eumax Internal/External 9-in-1 Removable Card Reader provided by ioCombo.com. Located in Fremont California, ioCombo.com is a full range supplier of PC parts, cards and peripherals, and with a ResellerRatings.com lifetime rating of 9.10, seem to be out to make their customers very happy folks.

Description:

The Eumax Card Reader is a USB 2.0 compliant, portable plastic device capable of reading/writing to 9 different card mediums. Included with the reader is an aluminum docking station that fits in a 3.5" bay and includes two additional USB 2.0 ports.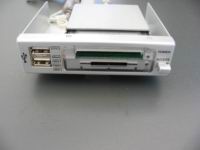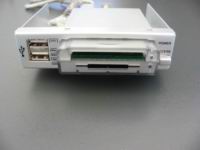 The Eumax 9-in-1 Card Reader is sold in the retail style packaging shown below, and includes all of the necessary cables, hardware, and documentation required.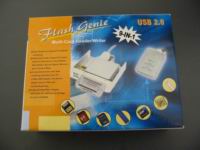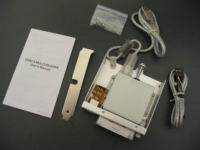 Features (from the Eumax website):

• Flash Card support: Compact Flash, Microdrive, Smart Media, Multi-Media, Secure Digital and Memory Stick.
• USB 2.0 and USB 1.1 compatible (hi-speed)
• High speed transfer rate up to 480MBPs
• USB bus powered, NO external power is needed (less cable, less hassle)
• Read and write any files for PC or MAC
• Data transfer rate 700 kb/s ~ 10 mb/s
• Hot swappable
• Drag and drop files between cards
• O/S supported: Windows 98SE, 2000, ME and XP and Mac 8.6 or above
• LED indicator to display "Power" and "Access" status
• 2 USB Extension port on 3.5" Drive Bay

Installation:

Installation of this device is extremely easy, mount the docking station device into an available 3.5" drive bay just like a floppy drive and, using the included pass through slot cover, route the USB connector to a USB socket on the back of your case. The docking station also has a cable to plug into a USB header onboard your motherboard. I, for the life of me could not understand why Eumax decided to go with this method of connecting the card reader. USB connectivity is already provided to the docking station from the motherboard, why the need for the pass through cable? I pulled up the system properties for the USB Hub and realized that the total hub power of 500mA was being allocated to the Card Reader. The second connection is necessary for power considerations. I would have liked to see the ability to choose internal motherboard pin connectors or regular USB connectivity.

Windows XP and 2000 will automatically recognize the card reader and place 4 drive icons in My Computer. For the other varieties of Windows, a CD is included with drivers for Windows 98SE and ME. Mac OS 8.6 and up are also supported. Also included on the CD is a small utility called Flash Doctor. This utility is not installed, but rather run right from the exe. There was no mention of this utility in the instruction manual. The only thing I can seem to get it to do is format an inserted media card. Formatting a card can be done from Windows, so I'm not sure why the utility was written.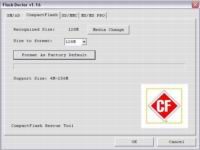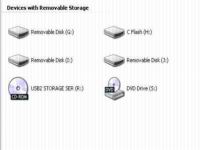 I got lucky with this one, a perfect match to my Coolermaster aluminum case. The assembly is not cluttered on the front and labels everything very nicely.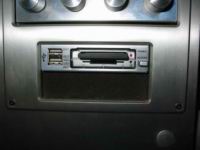 In use:

After installing everything and booting into Windows XP Pro, I noticed the 4 new drive icons. Each icon is named Removable Drive and they are sequentially numbered following the last drive letter you are currently using. I inserted a 128Mb SanDisk Compact Flash card and Windows popped up with the standard, "What do you want Windows to do?" After formatting the card in FAT32, I copied 1246 JPEG images to the card for a total of 120Mb. This operation took just a few seconds over 30 minutes. Copying the same files back to a hard drive took about the same amount of time, 34 minutes.

The true beauty of this device is the ability to push the silver button on the front and remove the card reader from the docking station.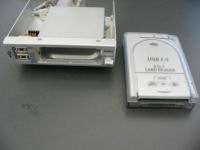 I popped the card reader out and plugged it into my laptop. A cable hidden in a slot on the back extends just past the back of the reader, so a USB extension cable would come in handy, but is not necessary.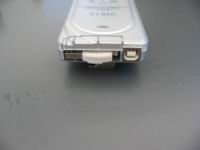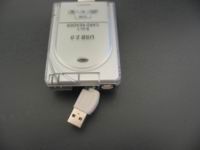 Conclusion:

The Eumax 9-in-1 internal/external card reader does exactly what it is meant to... Read all the different card formats. It also adds to this by including a couple of high speed USB 2.0 ports. What really makes this card reader stick out from the pack is the dual nature of the removable section, allowing the user to take it along wherever necessary. As a product that does what it claims and offers some nice extra features, I give the Eumax 9-in-1 Removable Card Reader 4.5 out of 5 stars... "Readily Recommended".

ioCombo.com has the Eumax 9-in-1 card reader as a special deal right now, $29.95 with free shipping, which compares quite well with other card readers found during a search of Price Grabber.

Final Rating (4.5 out of 5 stars):






Pros:

• Internal/External
• Aluminum Finish
• Low Price
• USB 2.0 Ports

Cons:

• Pass through connectivity

Special thanks to ioCombo.com for providing the Eumax 9-in-1 Removable Card Reader to BigBruin.Com for review!

Please drop by the BigBruin.Com forum and feel free to discuss this review!

Home | Forum | Review Index | Page Views: