In Use:
My installation will find the ZSE01 in my basement, which will allow the siren to cover the lower half of the house and the attached garage , while my other Z-Wave siren will be up one flight in order to cover the first and second floor. The basement in my home has nine foot ceilings, and rather conveniently for this installation there are a few outlets right up near the ceiling. I don't know what they would be for in general, but it made installing the siren out of reach, but well within earshot very easy. I just mounted the adjustable base near an outlet, wrapped the excess cable around the base, and plugged it in.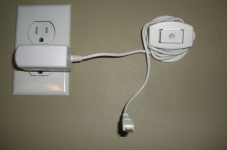 Pairing with SmartThings was as easy as could be expected, and the two screenshots below show the device setup as a Z-Wave siren via the built-in device handler. Two things that I find to be fairly common, but perhaps not everyone has experienced, are worth nothing with the configuration of the ZOOZ ZSE01. The first is that while many devices, including the ZSE01, say to press the button three times during pairing, I find that just pressing as many times as you can is a more appropriate approach. Sometimes three presses work, but usually at least 5 or 6 presses are required. The second is that the siren connected to SmartThings as a Z-Wave switch, which might work OK for basic functionality (turning the switch on makes it alarm), you should enter the SmartThings IDE and manually switch the device type to a Z-Wave siren.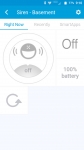 In use the ZSE01 works just as I would expect. I added it with the other siren for a variety of alerts in SmartThings' Smart Home Monitor. Triggering an alarm shows that the ZSE01 responds quickly and is plenty loud to let me know something is going on, whether I am in the basement or in the attached garage.
SmartThings does monitor the battery level of the ZSE01, and since I have only had it installed about 4 weeks, it is hard to say what to expect for battery life. The device does run off of AC power, with the batteries only there for backup purposes, but so far they are still reporting 100% charged.
Another interesting feature of the ZSE01 is that the device will work as a Z-Wave repeater while plugged in to AC power. I can not confirm that this is the case with my installation, but if you have a weak Z-Wave signal to certain areas of your home, adding a repeater device like this in the middle would help improve the strength of your Z-Wave network.