USB 3.0 Testing:
Since a USB 3.0 connector is included, I decided to run a few tests on the drive while using it. The test system uses a
ASUS Sabertooth 990FX AM3+
motherboard with an AMD 1090T processor. Keep in mind that if the Seagate Wireless Plus is connected to a host system through the GoFlex adapter, the wireless function is disabled.
CrystalDiskMark 3.0.1 x64:
CrystalDiskMark
is the first benchmark used to test the Seagate Wireless Plus drive. CrystalDiskMark was configured with 1000MB test files with each test being run five times and the average results reported below.
The Sequential Read and Write test shows the Wireless Plus performs as we would expect. It receives scores slightly better than a Lacie Rugged USB 3.0 drive, but slightly less than a Seagate 1TB SATA 6Gb/s hard drive connected directly to a SATA 6 channel.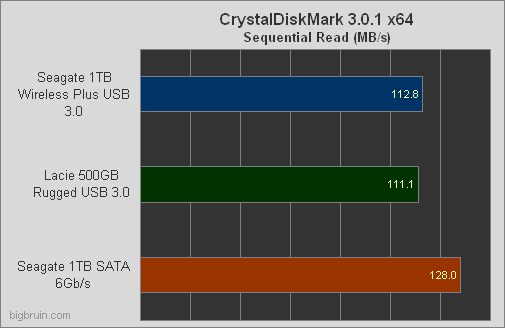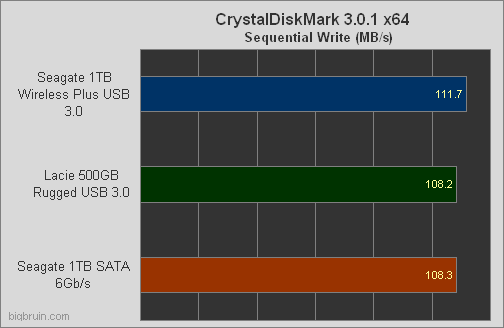 For the 512K Read tests, the Seagate Wireless Plus received the lowest score by 4MB/s.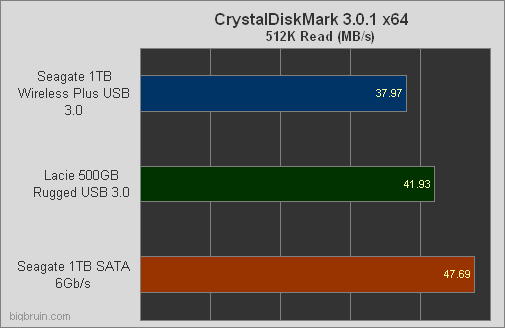 For the 512K Write tests, the Wireless Plus outperformed the Lacie Rugged drive by 16MB/s, but fell behind the SATA 6Gb/s drive by close to the same.