Video:
Let's be honest, video capabilities are really what people buy these things for. All the other features are nice but this is the device's main focus. As mentioned this device is capable of full HD 1080P output via HDMI, but the problem is that I was not able to keep a consistent output with this setting. At first I thought I was having buffering issues or network slowdowns causing frames to drop. But what I noticed was that each time it happened the TV was popping up its dialog box indicating a new connection and would state the resolution as 1080P. I thought this was strange so I tried different file types, lower bandwidth files all to no avail. As soon as I dropped the resolution down to 720P the problems went away. The manufacturer was contacted regarding the issue, but so far I don't know if there is a solution or if there is a defect in this unit. In their defense, I have not seen anyone else with this same issue so I may just have a defect in the hardware. Also, since so many other aspects work so well I have to believe the key functionality will work as described. If a solution is found to this issue, I will post it in the discussion thread. So for the rest of the review please note all comments will be based on 720P output.
Digging into the Video tab you'll find the now familiar Green, Red and Yellow button functionalities mentioned previously with slightly different sorting and filtering options. Also the view option has an additional list format that gives you a preview of the video and provides information on file size, file type, video and audio codec as well as bit rate. In the grid mode it will display cover art if the artwork has the same name as the video, this makes it much easier to find the video you want.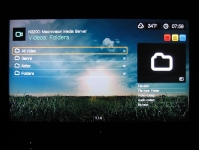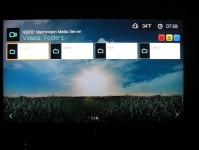 At the start of the review the compatible file type and codecs were listed. It is a very extensive list and in reality this device plays most everything but I did find a few exceptions. Only one of which was a format WD claims to support; FLV (h.264). I was able to play other files which the WD indicated were FLV (h.264), so I am not sure if there is something wrong with this file or the 1080P issue mentioned above is affecting something else.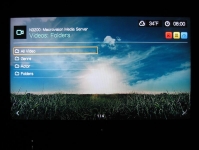 VOB playback was very good allowing complete menu control just as you had with original DVD. The picture quality was good and was comparable to the original DVD, but was not as good as an upscaling player.
It also passes DD and DTS via both the optical output and HDMI cable. Unfortunately you can not have both on at the same time like some other devices.
Another notable feature is your ability to adjust lip sync to correct any issues from a bad rip. I didn't have any files I needed to use this on but did play with the function to verify its functionality. The device also allows you to start a movie where you left off or to restart at the beginning. You can also fast forward and rewind at varying speeds and some files allow you to jump to a specific time.
Overall the audio and video quality was very good even over a wireless n network. In fact I played a MP4 h.264/AAC with a bit rate of 23.4Mbps with no issues at all.