Conclusion:
The
Western Digital
RE2 750GB SATA hard drive is now two generations removed from being the latest and greatest in their family of enterprise class hard drives, but it didn't show its age when tested for use at home. While it performed well in typical desktop benchmarks, I can also see it being well suited to NAS duty, as a stand alone drive or in a RAID array.
During testing the drive proved that it has the performance to serve well in a home environment, and the features and specifications that make it appealing for use in servers can definitely be appreciated at home, too.
The WD RE2 750GB hard drive offers a MTBF (mean time before failure) rating of 1.2 million hours, which may be higher than a comparable drive rated for home use. While this may translate to a longer overall life, it is more directly related to the drive running for more hours per day over the same expected life time. But, to simplify things, compared to a drive rated for 1 million hours MTBF, that extra 0.2 translates to 8333 extra days of non-stop use!


When new these drives come with a 5-year warranty, but as a "new pull" available from Geeks.com you can expect to get 3+ years of the balance of this warranty. Considering that many drives now ship with a 3-year warranty, you aren't losing out on anything in that regard. The price from
Geeks.com
for this drive is
$63.99
, which is very competitive when compared to other new drives with the same capacity and less warranty. At the time the review was published, the price was even more appealing since this drive qualified for free shipping with the coupon code FREESHIP.
Considering the combination of enterprise class features and specifications, general operating performance, warranty, and price, the Western Digital RE2 750GB Enterprise SATA hard drive from
Geeks.com
earns the Bigbruin.com awards of "Recommended" and "Good Value".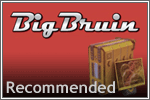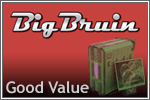 Pros:
» Enterprise class features for more intensive usage
» Runs cool and quiet
» Competitively priced
» 3+ years of original 5 year warranty remaining
» Good choice for use in a NAS device or RAID array
Cons:
» Not 100% new
» More recently developed drives may perform better
» Not energy efficient
» Be sure to remove the jumper to enable 3Gbps data transfers
Please drop by the Bigbruin.com Forum and feel free to post any
comments or questions
.