Conclusion:
The design of the
Thermaltake
SpinQ VT is one of its most interesting features. With the cooling potential so close to other coolers, the design will become the deciding factor. While other coolers are sticking with the tower design (and there's nothing wrong with this), the SpinQ VT has a more unique shape. The shape does have a downside though, replacing the fan will be nearly impossible should it ever fail. If you do not care for the red LEDs, this cooler will not be an option for you, either. With a typical tower design you could always remove the fan(s) and replace them with other fans for performance or aesthetic reasons.
While the
Thermaltake
SpinQ VT CPU cooler may not be capable of extreme cooling, it performs very ell when compared to other high performance air coolers; and it looks really cool while doing it. Another plus is that it doesn't create much noise at all, and even at high speed it was barely audible over the other components in the test system.


The downsides to the SpinQ VT are quite similar to the Thermaltake Frio. The height of the cooler might restrict it to mid-tower and larger cases. However, other components on the motherboard shouldn't be an issue. The fan controller is nice, however it can't be adjusted without taking off the side panel. Most will probably just set it and forget it, though. Finally, the red LEDs may not appeal to everyone, so it would be nice to see other color choices available, or perhaps just a way to turn off the lights.
The Thermaltake SpinQ VT has
a price tag of around $60
at popular online retailers like
Newegg.com
and
Amazon.com
. This price does place it up there with some of the more expensive air coolers, and while some others may be able to compete with the SpinQ VT in terms of performance, they might not be able to when it comes to style.
I have no hesitation recommending the Thermaltake SpinQ VT CPU cooler to anybody looking for a great cooler, and it therefore earns the Bigbruin.com "Highly Recommended" award.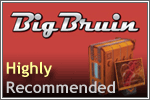 Pros:
» Great cooling
» Easy universal CPU installation
» High quality
» Just plain cool looking (ok, that's subjective)
Cons:
» High price
» Short fan speed controller cable
» Nearly impossible to replace fan if it dies
» Red is the only choice for LED lighting
Please drop by the Bigbruin.com Forum and feel free to post any
comments or questions
.