The Basics:
Thermaltake
tends to put their products in similar packaging to make it easier for the end user to recognize. Boxed up, the Max 5G looks like the rest of Thermaltake's products with its black packaging and Tt logo in the corner. The front of the box provides just enough information to grab somebody's attention by providing a high level overview of the feature, and a nice view of the enclosure. The back of the box provides a bit more information in multiple languages.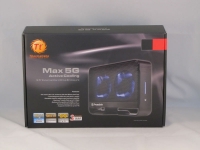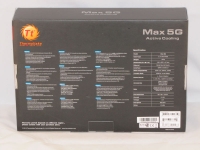 There are only so many ways to package the enclosure so it doesn't get damaged in transit. Thermaltake uses the standard foam blocks to keep it protected, and uses the extra space to put the various accessories in boxes. These boxes are a good use of the space, however I'm sure people would like to see less packaging used.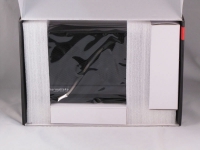 There are not many accessories included with the Max 5G; a power supply, USB 3.0 B cable, two pieces of foam, a hex screwdriver, and a simple manual. The foam pieces are to provide some protection for slim hard drives, and the hex screwdriver is a nice touch since there are two hex screws to remove the panel.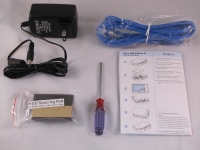 One of the side panels will be removed to install the desired hard drive. This panel is pretty plain as it simply has some white text on it which identifies the model, and that it is a USB 3.0 enclosure. At the bottom corners there are two hex screws that once removed will allow the panel to come off.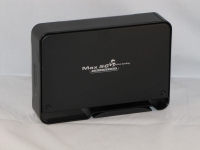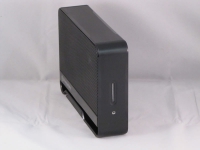 The above right picture shows the front of the MAX 5G enclosure. Nothing much to see here other than the hard drive activity indicator.
The other side panel has two 80mm cooling fans that feature blue LEDs in order to provide a little
flash
to the enclosure. The two fans are behind a steel mesh which will not only provide protection to the fans, but also allow the fans access to plenty of air to cool the hard drive.