Conclusion:
The
Thermaltake
Toughpower XT 750W power supply performed well in each of the subjected tests. The unit consistently maintained a stable voltage when loaded and was slightly more efficient than its competitor. This particular model (W0229RU) also came with cable management to help tidy up your PC case. Worth mentioning is the super quiet performance of this unit - you simply can't hear it running. So there you have it - quiet, stable, and efficient.


Searching the Internet shows that you do have to pay for this quality. Prices vary from just over $140 (at
SuperBiiz.com
) up to just over $200 (at
Newegg.com
). That is quite a range, but at the low of end of the scale the price rather appealing. Thermaltake would have a real winner here if they could get the price on this unit down at all stores.
For its solid performance and low noise operation the Thermaltake ToughPower XT 750W power supply earns the Bigbruin.com awards of "Recommended" and "Whisper Quiet".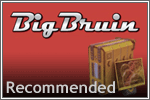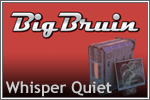 Pros:
» Consistent voltage regulation across all rails
» 5 year warranty
» Nearly silent, you won't hear it over other components in your tower
» LED status lights give input on power supply health
Cons:
» The 20-pin + 4pin connector can be frustrating to use when it separates
» High price at many popular online retailers
Please drop by the Bigbruin.com Forum and feel free to post any
comments or questions
.