The Basics (continued):
Finally we have a picture of the side of the Thermaltake Toughpower XT where all of the power connections are made.


As you can see this is a modular power supply, and sockets are provided for all connections except for the 24-pin motherboard connector which is hardwired to the unit. Also pictured is the assortment of modular cables that are included with the unit.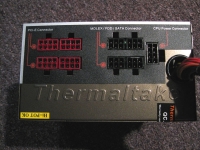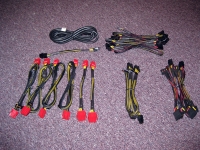 List of included connectors:
» 24-pin motherboard connector (hard wired to unit) - qty 1
» 4-pin cpu connector - qty 1
» 8-pin cpu connector - qty 1
» SATA connectors - qty 6
» 4-pin molex connectors - qty 8
» 4-pin floppy connectors - qty 2
» 8-pin PCI-E connectors - qty 2
» 6-pin PCI-E connectors - qty 2
We finish up the basics with a peak inside the Thermaltake unit. The built in LEDs on the side panel of the power supply make it very difficult to get inside so we suggest you don't give it a try. Inside you will find the components used in the power supply are branded with the Thermaltake logo. The pictured capacitors are advertised by Thermaltake as "high quality Japanese capacitors" and we will take their word for it.