Just over five years ago we took a look at a cooler from what was a new company to us...
ThermoLab
. The
review of their Baram
cooler left us impressed and hoping to see more from them. While it definitely took longer than expected, we finally have another ThermoLab cooler in house, this time in the form of an ultra low-profile unit intended to cool Intel 1155 and 1156 processors with a maximum TDP of 100W.


The promotional image above shows off the ThermoLab ITX30, which as the name may imply is 30mm tall and ideally suited for compact Mini-ITX systems. The heatsink construction is entirely done in copper, and it features two heatpipes to increase the transfer of heat from the processor to the air being pushed by the slim 80mm fan.
More information on the cooler is available on
the official product page at ThermoLab.co.kr
, as well as in
listings at ebay.com
- which is about the only place I can find it for sale in the USA.
Features and Specifications:
» Product Name: ITX30
» Dimensions: 100 × 94 × 30 mm (L x W x H) with FAN
» Weight: 300g (Heat sink and Fan)
» Material: Pure Copper (base and heat pipe), Pure Copper (heat sink fins)
» Heat pipe type: Two 6mm diameter copper Heat Pipes(Sintered powder type)
» Thermal Grease:
» Color : Gray
» Thermal Conductivity : 4.0W/mK
» Specific Gravity : 2.6
» Operating Temperature : 0~150℃ / spreading thin on the bottom
» Fan dimension: 80 x 80 x 10mm, 4-pin PWM type
» Bearing Type: EBR
» Fan speed (PWM Duty): 1,400 ± 300 RPM [0 - 30%] | 2,500 ± 300 RPM [100%]
» Noise: MAX. 27 dBA
Packaging:
The ThermoLab ITX30 is packed in a small cardboard box that gets right down to business. The top of the box provides the company logo as well as detailing what model CPU cooler is found inside.
Various other panels of the box provide a few more details on the features and intended use of the cooler.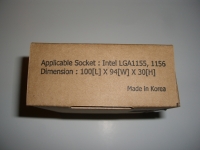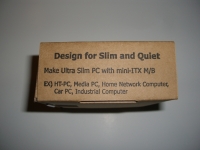 Inside the box we find an instruction sheet and that the cooler itself is effectively double boxed, as well as sealed inside a plastic bag.