User Interface (continued):
For fun, we installed the USBCopy module which allows for one-touch copy of a USB drive from one of the two USB ports on the server. It copies the entire contents to a new folder under the usbcopy share. To use the service, just plug in your drive and from the front panel, use the arrow keys to navigate to USBcopy and hit the return key. The server will automatically begin the copy process.
The last key feature we'll look at are backups. Thecus had enough forethought to include a full version of Acronis True Image Personal with the N3200XXX. Using the CD key on the back of the envelope, we installed the software and within minutes we were configuring our backups.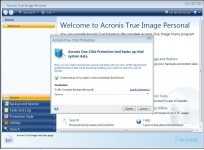 First, we mapped to a share on the NAS we created called Backups. We then changed the default target to that share.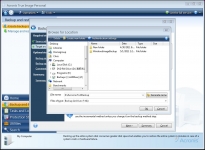 After a few seconds, the backup began to run. An hour and a half (and 33GBs later) we had a full backup of our local drive. In order to make our system truly bulletproof, you'll need to create a recovery CD using Acronis' Rescue Media Builder. This utility creates a bootable CD that will help you point to your backup files and fully recover your system should disaster strike.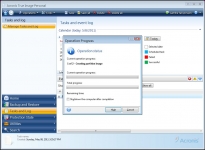 LCD:
The front of the Thecus N3200XXX has a very informative LCD screen that rotates though the basic system information during normal operation. Some of this information might be more helpful than other. The information that is rotated are the date and time, system temperature...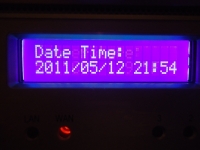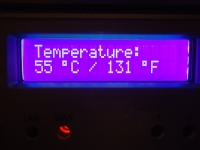 ... RAID health status and fan speed. Even at 55 degrees Celsius, our single system fan is only spinning at a very quiet 1370 rpm. At this temperature, the outside of the aluminum shell is just slightly warm to the touch.