Packaging and Accessories:
The
Thecus
N3200XXX showed up in a very nice retail box. The front (and the back) of the box has a nice, but rather small, image of the actual server. Along the bottom are pictograms detailing all of the various hardware highlights of the device. One side of the package lists all of the features of this NAS device, while the other side has another informative graphic pointing out all of the various uses for the product. Also of note is the handy carrying handle on top to help get your new toy home.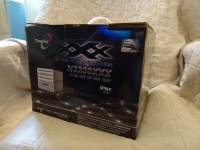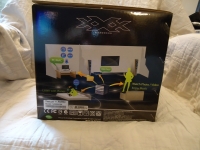 Once we open the top, you'll notice that the Thecus N3200XXX is encased in a dense foam cushion. To reduce shifting during shipment, the power brick is packed in the back of the box while the bag of accessories is placed in the front.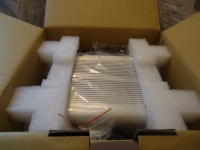 As mentioned above, our Thecus NAS utilizes an external power brick, which not only helps reduce the overall size of the unit, but also keeps any unnecessary heat out of the chassis. According to the markings on the outside of the power supply, this is a 95 Watt unit and is probably overkill for the server under even the most strenuous conditions.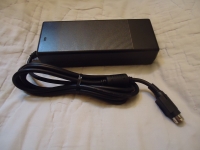 The bulk of the accessory bag contains the software, spread out over three CDs. The first (marked "Thecus XXX series") contains the Setup Wizard, product and user manuals in PDF format, and the backup software for both Mac and PC. The second disc contains Acronis True Image Personal. On the CD sleeve is a key to unlock the software. The last CD contains a text file and another file that Windows claims is a movie file, but neither Windows Media Player, Quicktime, or VLC Media player could run it. Lastly, we have a standard 2 meter CAT5e cable. It's always a nice touch when companies include everything you need for standard operation (especially for a server product) without the user having to incur any extra costs.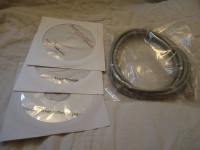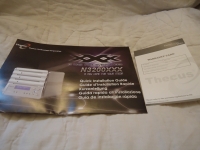 The last accessories are shown in the above right image, and include the Quick Setup Guide and the always handy warranty card. The Quick Setup Guide, which is doubled-sided and written in nine different languages, has lots of helpful info and a bevvy of screenshots to help you get the N3200XXX configured with the least amount of effort.