We have covered numerous gaming mice and keyboards over the years, and just recently became familiar with
Tesoro
thanks to reviews of their
Excalibur Spectrum keyboard
and their
Gandiva H1L mouse
. Both devices were packed with gamer friendly features, including some rather novel lighting schemes, and in the end both received positive marks in their reviews.


This time around we have Tesoro's Sagitta Spectrum gaming mouse, which is shown in the promotional image above. This mouse has a far more traditional appearance, shape, and size than the Gandiva H1L while still offering plenty of interesting features you would expect to find on a gaming mouse. Before taking a closer look at the sample provided for review, let's take a look at some of the features and specifications taken from the official
product page
on the Tesoro website...
Features and Specifications:
"Ultra ergonomic and incredibly comfortable gaming mouse designed for most genres of games such as FPS, MOBA and RTS. Include states of the art infrared sensor, antimicrobial soft-touch finish and customizable 16.8m RGB color lighting."
» 5000 True DPI
» 1000 Hz Ultra Polling Rate
» Detection 130 ips, acceleration 30g
» 6 Independently programmable buttons
» Adjustable DPI Control, Polling Rate, Liftoff distance and Shooting Speed
» User-Friendly UI
» 512Kb onboard memory
» 32bit ARM Cortex Premium Processor
» Adjustable RGB LED control
» Human ergonomics for the most comfortable grip and antimicrobial soft-touch finish
» Compatible with Windows XP / Vista / 7 / 8 / 10
Packaging and Accessories:
The retail box for the Sagitta Spectrum is covered in images and details about the mouse, so you are really able to learn all about it before making a purchase. While the images below make the box look square due to the angle the camera was held at, it is actually a trapezoid, which just adds a bit of visual appeal to the packaging.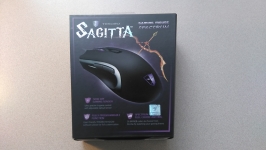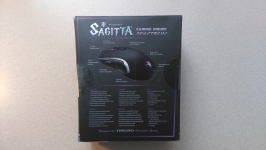 And if the outside surfaces of the box didn't tell you enough about the product inside, the front cover is held down by Velcro and can be hinged up to let you have a look at the mouse itself (as seen in the below left image). There are no real accessories included in the box, but the below right image shows the literature you will find below the mouse's plastic compartment.