Conclusion:
I have previously made my own videos of the
Tesoro
keyboards in action, but they clearly lack any type of professional polish... This time, just enjoy the video that Tesoro created for the GRAM:
The Tesoro GRAM Spectrum RGB mechanical gaming keyboard really is an incredibly nice unit, and is definitely my new favorite keyboard. I like the no nonsense physical design, the solid feel, everything about the keys, and of course all of the possible gaming related customizations.


With all that the GRAM has to offer, and for just how cool it is, you have to realize it is going to be one fairly expensive keyboard. Shopping around finds that it sells for between $130 and $140, which is definitely high compared to the bulk of the keyboards on the market today. But, it is definitely better than the keyboards I have used, and if I was able to get 10 years out of my Logitech G15, I am certain I can make the Tesoro GRAM last for at least that long.
Considering things like the build quality, design of the keys, customization options, and the detachable USB cable - the Tesoro GRAM Spectrum RGB mechanical gaming keyboard earns the Bigbruin.com "Highly Recommended" and "Gaming Approved" awards.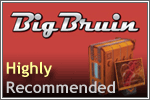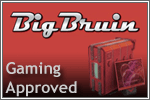 Pros:
» Highly configurable lighting controls
» Per key programming and lighting control
» Looks and feels very well made
» Plenty of gamer friendly customizations available
» Tactile feel, and very low noise
» Fast - in terms of key response and updating from software
» Detachable USB cable is very nice touch
Cons:
» All of this awesomeness in one keyboard costs close to $140 (US)
Please drop by the Bigbruin.com Forum and feel free to post any
comments or questions
.