The Basics:
The
Team Group
TG032GE902C3 is shown in its closed position below. Overall the device feels sturdy enough, although it is not nearly as robust as some of the nicer Kingston and Corsair flash drives I have owned.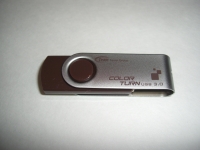 The promotional image below, and the two pictures following it, show the drive in various states of "openness".


The hinge moves with a bit of resistance so it will usually stay where you leave it, but there are no fixed positions to keep it closed or to keep it open all the way, for example. While the USB connector is protected when closed, due to the design you're really not going to keep out any small bits of dust or splashes of water. Plus, if rattling around in your bag or just in your pocket, the possibility of the "cap" opening are real.