The Interface:
While we could spend a great deal of time looking at all of the ins and outs of the user interface, the bulk of that work was done in a previous review. The latest production release of Synology's firmware, called DiskStation Manager (DSM), is version 3.2. This was the same firmware that was well documented in the
October 2011 review of the DS411
. For a more thorough look at some of the features of DSM 3.2, please have a look at that review as well as the handful of screenshots below.
The bulk of your interactions with the DS212 and its feature-packed firmware will be via a web browser. The installation DVD will help you find and connect to the DiskStation initially, but beyond that you will simply want to go to its address on your local network. The screenshot below shows the login screen, which has been customized from within the firmware during a previous session.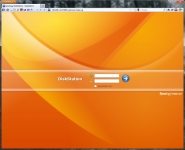 The below left image shows the main page of the DSM 3.2 interface. It looks a bit like the desktop of an operating system, and this is just one of the many ways that Synology has created an intuitive system to make managing your NAS simple. Not only are things well laid out, there is ample help available, you can search for what you want if it is not immediately obvious to you, and aesthetically everything is very well done. On top of all of that, it is the quickest NAS interface I have used; responding to commands as you might expect a system to... quickly!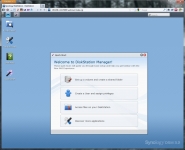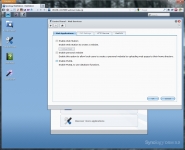 The above right image takes a look at the Web Services tab, as one example of how Synology guides you through your configuration. Not only are the options explained a bit under each check box, you can click the "?" for more help, or go to the search box if necessary. From the technical side of things, this page is used to enable web services on the DS212, including web hosting and the use of MySQL databases with the hosting. Other tabs in this group are available to configure other related features, including PHP, HTTP, and WebDAV.
The below left image shows one of the tabs for configuring local file shares, while the below right image shows a group of tabs for configuring base DSM settings (with the selection of login screens being a part of this group).