Testing (continued):
Real World File Transfers:
In the next phase of testing the Windows Server, described previously, and the Synology Diskstation DS414j will be compared during real world file transfers. For all tests, the files described were transferred while a stopwatch was used to record the duration. Then the file size and the transfer time were used to calculate a transfer rate.


Small files are what we will consider first - as files for documents, pictures, and digital music probably consist of a large portion of what people would want to back up or share. The small file transfer test involved moving a folder full of MP3 music files around the network. One main folder comprised of 10 sub-folders and a total of 198 MP3 files totaling 643MB was copied and pasted to the storage servers of interest. A reboot of the Windows desktop system was executed between each test, and different folders were used for reading and writing.
The chart below shows the read results, which shows that the Diskstation DS414j was able to serve up this collection of MP3 files in just a few seconds with an average transfer rate of about 43MB/s. The Windows server lagged behind at 25MB/s.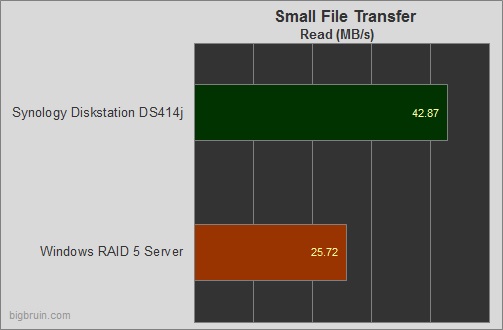 While writing to the Diskstation DS414j, the transfer of these files was even quicker at about 49MB/s.