Conclusion:
When I first saw the
Cooler Master
Storm Trooper computer case I was very impressed by the aesthetics and had high hopes for it, assuming that it had all of the refinements that I have come to expect from a Cooler Master case. With the system install completed I am very pleased with how things look and fit, and how neat the inside of the case looks, but the process of getting there was just more difficult than I would have expected. The lack of tool-less features, poor fitting side panels, an awkward 2.5" drive cage, and a 3.5" to 5.25" bay adapter that seems to be unusable had me working on the installation far longer than I would have expected for such a basic system.


If you are planning to build a system that won't change for a long time, the Storm Trooper should not be written off, however! It offers plenty of room for drives (2.5", 3.5" and 5.25"), has ample cooling which is made even more appealing thanks to the integrated fan controller, and neat freaks will love the cable management features that allow you to route your cables for an extremely tidy appearance.
While I was skeptical that a handle on a full tower case could be useful, the Storm Trooper proved me wrong. Even when fully loaded, the case could be picked up by the handle and it felt extremely sturdy. One other novel feature worth revisiting is the X-Dock. This 2.5" external hot-swap bay could come in very handy for accessing drives on hand, and I even toyed with the idea of having the OS drive installed here. One downside to this feature is that it seems to support SATA 3Gbps maximum, meaning that anyone that has already moved on to SATA 6Gbps will be throttled performance wise.
The
Bigbruin.com shopping pages
find the Cooler Master Storm Trooper at a couple of popular retailers for about $150 (US). While $150 is a competitive price for some of the nicer enthusiast grade cases out there, I feel this may be a little too much for the Storm Trooper. It looks great and has some nice features, but considering it is constructed of steel and plastic, and has a few design/quality issues I would have expected it to cost a little less.
A gaming system installed in the
Cooler Master
Storm Trooper computer case will give the owner a great looking system with room for plenty of high end gear, while also being highly portable (as long as you are strong enough to carry a 40-50 pound system with one hand). With that in mind, it earns the Bigbruin.com "Gaming Approved" award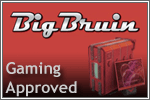 Pros:
» Aesthetically a very well done case
» Cooling design is well done with plenty of fans and a fan controller built in
» Handle on top looks cool and works very well, even with a fully loaded system
» Plenty of room for 2.5", 3.5", and 5.25" drives
» Decent cable management features
» Large cut out for CPU cooler mounting without removal of motherboard
Cons:
» Side panels don't go on very well
» Not many tool-less features
» Two front intake fans are not filtered - but other areas are filtered which don't need to be
» 3.5" external bay devices are way too difficult to install
» 2.5" internal drive cage isn't very practical
Please drop by the Bigbruin.com Forum and feel free to post any
comments or questions
.