External Examination (continued):
The next two images take a look at the goodies found inside the "hidden" compartment. There are plenty of mounting screws, an 8-pin PSU extension cable, a handful of zip ties for cable management, a set of 3.5" to 5.25" drive rails, and a small PC speaker... among other things. Until I find something else to stash in here, this is where I will keep the unused accessories for safe keeping.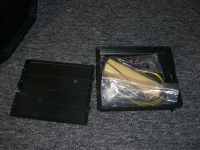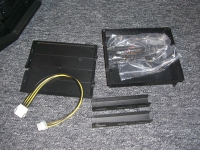 Next we check out one of the really cool features of the case - the handle. Handles may be common on smaller, LAN party inspired cases, but the Storm Trooper is a big fella and unlikely place to find a handle considering a fully loaded case might way 50+ pounds. The handle has a large rubberized area that should be comfortable to grab by most sized hands, and to my surprise picking up a fully loaded system was pretty easy. On top of that, it felt very sturdy as it didn't flex or creak or give any indication that the design was anything but well done!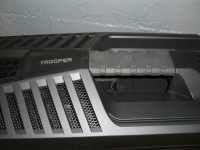 Below we see the dust filter on the case's top fan slid out towards the back. It can be removed and replaced with ease, allowing you to dust it off on occasion. It seemed odd to me, solely because this should be an exhaust fan and if the dust is already in the system - just let it out without being filtered!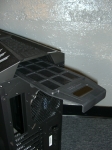 The next two images show more easy access dust filters, this time on the bottom of the case - which should be inlet fans. The below left image shows the two dust filters in place over the PSU intake and an area on the floor where you could mount another fan. The below right image shows the slid out just a bit to reveal how they can be removed for cleaning.