Packaging:
The
Cooler Master
Storm Trooper is sold in a box that is fairly typical to computer cases. The heavy duty cardboard is tough enough to protect it while in transit if purchased online, while it also provides plenty of text and graphics to be a good selling tool in a retail setting. The review sample's box was able to ship from coast to coast with minimal damage, and inside the only evidence of rough handling was a single crack in one of the case's feet.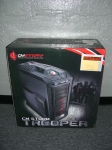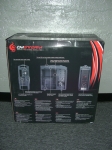 Inside the box we find the case is wrapped in a foam bag and braced between two rigid foam blocks for protection. Outside of all of this packing material was where the case's manual was located.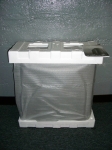 External Examination:
Out of the packaging, the first thing I noticed was that everything is tastefully in done matte black. Just about every surface on the outside (and as we will see later - also on the inside) has this finish and color, regardless of material. The below left image shows the side of the case which opens for installing components. It is constructed of steel, with a unique area for ventilation that combines hexagon perforations in the steel and a large panel of perforated mesh. Up top we can see the carrying handle, something I am interested to check out once a complete system has been loaded in to the case. The below right image shows a close up of the bumped out ventilated area of the side panel described a couple of sentences earlier.