Testing:
The tests to be executed are detailed in the list below. Each card was run through the following tests, and the system was rebooted between each run.
» Heaven v1.0 (DirectX 11)
» FutureMark 3DMark Vantage
» SiSoftware Sandra Rendering
» Windows 7 Experience
» Crysis (DirectX 10)
» World in Conflict (DirectX 10)
» Resident Evil 5 (DirectX 10)
» Company of Heroes (DirectX 10)
» Thermal Testing
» Power Consumption Testing
What we have is a new DirectX 11 capable benchmark, a pair of familiar synthetic benchmarks, a look at the Windows 7 Experience results, four DirectX 10 benchmarks associated with 3D games, some thermal testing, and some power consumption testing.
As mentioned earlier in the review, for these tests we'll not only be evaluating stand alone card performance, but also CrossFire performance for Sapphire's HD5750 and HD5850 cards.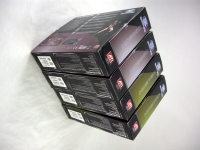 Including the stack of goodies shown above, the following configurations will be tested in this review...
» 1x Sapphire Radeon HD5850 1GB stand alone
» 2x Sapphire Radeon HD5850 1GB CrossFire
» 1x
Sapphire Radeon HD5750 1GB
stand alone
» 2x Sapphire Radeon HD5750 1GB CrossFire
» 1x
Sapphire Radeon HD4890 1GB
stand alone
Heaven v1.0 (DirectX 11):
While there aren't many DirectX 11 games available yet, there is a DirectX 11 benchmark available.
Unigene
released their Heaven v1.0 right about the time Windows 7 was officially released, and it is one of the first ways to analyze the DirectX 11 performance of the new operating system and new graphics cards.
Two results are provided, "Scores" and "FPS", and higher values are better for both. The scaling is very interesting on this test, as the CrossFire configured HD5850 cards see an improvement of about 172.5% in terms of both framerate (FPS) and scores. You might expect the theoretical limit to be 100% when doubling the number of cards, but extra testing showed that these results were repeatable.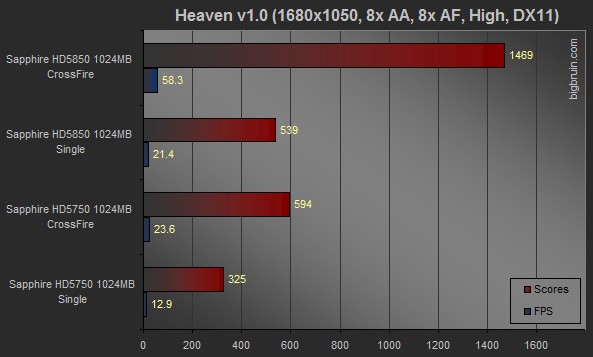 The results above are shown minus the HD4890 which is not a DirectX 11 card. The resolution for all tests was set to 1680x1050, with 8x anti-aliasing, 8x anisotropic filtering, and high settings.