Installation and Operation::
A system with the following components was used for this review:
» Intel Core i7 920 quad core processor
» Gigabyte GA-EX58-UD3R LGA 1366 X58 ATX motherboard (BIOS F6)
» G.Skill 6GB PC3-12800 DDR3 triple channel memory (1600MHz, 9-9-9-24)
» Maxtor MaxLine III 250GB SATA 3Gbps hard drive
» TSST Super WriteMaster optical drive
» Nesteq EECS 700 Watt power supply
» Windows 7 Pro 64-Bit operating system
All tests were conducted in the 64-Bit version of Windows 7 Pro, and the Windows 7 drivers provided in the box were used. The screenshot below provides details regarding the Sapphire Radeon HD5850 1GB graphics card as provided by Techpowerup.com's
GPU-Z
and the Catalyst Control Center's Overdrive tab.
The card was tested on an open testbed, so installation information regarding the fit into a typical case was not assessed. The image below is provided for a bit of size perspective. The Sapphire Radeon HD5850 is pictured in between a Sapphire Radeon HD5750 and a Leadtek GeForce GTX260. While the HD5750 just seems tiny, the HD5850 is a bit smaller than the GTX260. This card will fit in more midtower cases than some of the larger cards on the market, but it probably isn't small form factor system friendly.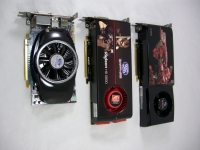 Part of the testing was conducted with two of these cards configured in CrossFire, and the image below shows how that setup looked. The cards are very close to each other, and it seems the card to the left in the image might struggle to get enough air. The opening for the fan is just millimeters from the back of the next card, so I was interested in getting to the thermal testing in this setup.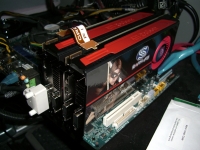 While the fan on the card can be made to surge to produce sounds of leaf blower proportions, I found that during operation with the fan speed set to automatic that it never got loud at all... Even in CrossFire. When we get to that section of the review we will see if the temperatures might suggest that the fan should have been spinning faster / louder.