Testing (continued):
FutureMark 3DMark Vantage:
Up first was
FutureMark
's 3DMark Vantage, and higher values are better for all results reported. The complete suite of tests was initially executed in "Performance" mode, which uses a 1280x1024 resolution. The chart below shows that initially the Radeon HD4770 is between the 9800 GTX+ and the HD4850, but with some overclocking it actually outperforms both cards.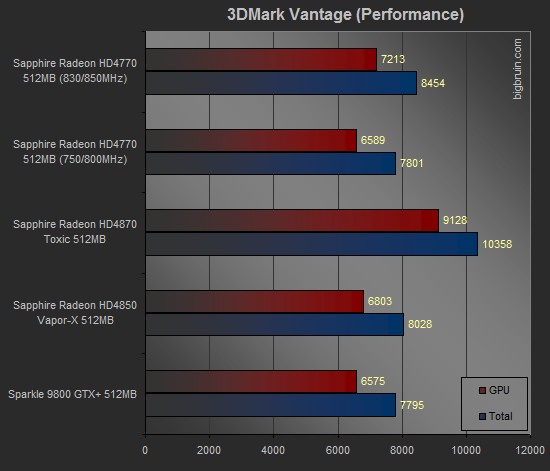 3DMark Vantage was run a second time on each configuration, this time in "High" mode which uses a 1680x1050 resolution. This time the HD4770 comes in last place while at stock speeds, but when overclocked it leaps ahead of the 9800 GTX+ and the HD4850.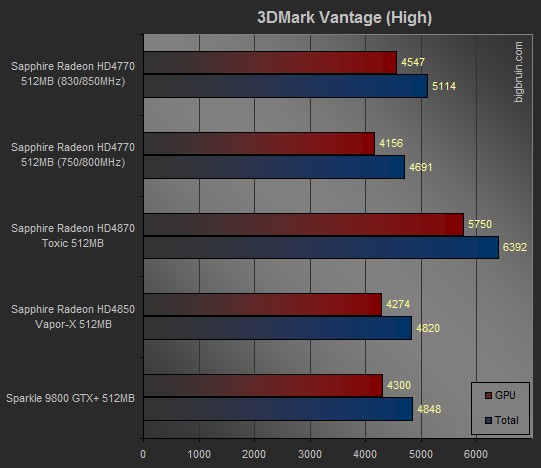 The Radeon HD4770 comes in with the lowest price of these three cards, although it is getting rather close thanks to price drops and rebates on HD4850 and 9800 GTX+ cards. It will be interesting to see if the new kid on the block can hang with the other cards in all tests, and how it does in terms of power consumption and heat production.