Configuration:
A system with the following components was used to test the Sapphire Radeon HD4770 512MB graphics card:
» Intel i7 920 quad core processor
» Gigabyte GA-EX58-UD3R LGA 1366 X58 ATX motherboard
» G.Skill 6GB PC3-12800 1600MHz DDR3 triple channel memory
» Maxtor MaxLine III 250GB SATA 3Gbps hard drive
» TSST Super WriteMaster optical drive
» Nesteq EECS 700 Watt power supply
All tests were conducted in the 64-Bit version of Windows 7 RC1, and the Windows 7 approved version of the Catalyst Control Center version 9.5 was used in lieu of the drivers provided in the box.
The screenshot below provides details regarding the Sapphire Radeon HD4770 512MB as provided by
Techpowerup.com
's GPU-Z. No surprises here, as this application confirms the published specifications.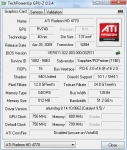 Overclocking:
While the testing of the card did not get in to extreme overclocking, the Overdrive tab in the Catalyst Control Center was used to push the card to the maximum settings available there. The default GPU speed of 750MHz was safely pushed to 830MHz, and the default memory speed of 800MHz was safely pushed to 850MHz. The card remained stable, temperatures weren't adversely effected, and I was happy to see the performance boost provided by the increased speeds (be sure to check the testing section for details).
Testing:
For comparison purposes, the Sapphire Radeon HD4770 512MB graphics card was tested against the following three other cards:
»
Sparkle 512MB GeForce 9800 GTX+
»
Sapphire 512MB Vapor-X Radeon HD4850
»
Sapphire 512MB Toxic Radeon HD4870
The tests to be executed include one synthetic benchmark, five benchmarks included with 3D games, a look at the Windows 7 Experience rating, some power consumption testing, and thermal testing. Each card was run through the following tests, and the system was rebooted between each run.
» FutureMark 3DMark Vantage
» World in Conflict (DirectX 10)
» Lost Planet (DirectX 10)
» Crysis (DirectX 10)
» Company of Heroes (DirectX 9)
» Devil May Cry (DirectX 9)
» Windows 7 Experience
» Thermal Testing
» Power Consumption Testing
While DirectX 10 versions of all benchmarks were available, I decided to run two in DirectX 9 mode just for a change of pace. The Company of Heroes benchmark always maxes out at about 61 fps in DirectX 10 mode so I wanted to see how the results would look in DirectX 9 mode, and I use the Devil May Cry benchmark in DirectX 9 mode for power consumption testing anyway, so I thought I might as well share the results.