Conclusion:
After many hours of testing, the
Seasonic
S12D 750W power supply seems like a pretty solid unit. It even bested a popular 80 Plus certified PC Power & Cooling unit rated for the same total power. The S12D 750W is solidly built, very quiet under load, and considerably smaller than its PC Power & Cooling counterpart. The plethora of SATA and Molex connectors, in addition to the cable lengths, make this perfect for just about any build. The addition of the 8-pin EPS connector and the 4+4-pin ATX connector make this versatile enough for everything from a simple desktop up to an enterprise server. Even with a Core i7 CPU and two GeForce GTX 260s in SLI we couldn't begin to push the envelope on this unit. The Seasonic S12D should provide many years of quiet, stable power. Its 5-year warranty seems to be right on par with the rest of the competition.


A quick search of the Internet shows that
Newegg.com
is the only e-tailer that currently stocks the Seasonic S12D power supply. Right now, you can get the S12D for $139.99 after a $20 mail-in-rebate, and shipping is free. While there are less expensive 750W power supplies out there, considering the quality features and performance the price seems to be fair.
Considering the performance, features, and overall appeal, the Seasonic S12D 750W power supply earns the Bigbruin.com "Gaming Approved" and "Recommended" awards.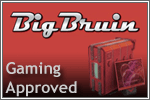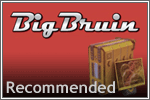 Pros:
» 120mm fan is quiet even under load
» Cables are long enough to reach in tall cases
» Myriad of cable connectors for every application
» 80 Plus Silver certified
» nVidia SLI ready
Cons:
» Cables are not modular
» Priced slightly higher than other 80 Plus certified units
Please drop by the Bigbruin.com Forum and feel free to post any
comments or questions
.