A few months ago we took a look at one of
OCZ Technology
's RevoDrive PCI Express solid state drives (
review link
). This innovative twist on SSD technology offered impressive performance by effectively coupling two SSDs in RAID 0, and connecting them to the computer via a PCI Express interface, instead of the more traditional SATA interface. The result was some pretty impressive performance results, including a 540MB/s read speed and a 450MB/s write speed.


How could you improve upon such results? One way would be to increase the number of "drives" on the PCB, so that the load is shared by a 4x RAID 0 array, instead of the 2x RAID 0 array we saw back then. That is what OCZ Technology has done with their RevoDrive X2 PCI Express SSD, shown in the promotional image above. There are effectively four 25GB SSDs on the card, each of which has its own SandForce SF-1200 series controller, all tied back to a Silicon Image SiI3124 RAID controller.
Before taking a closer look at the RevoDrive X2 100GB PCI Express SSD, let's take a look at some published information on it, as taken from the
official product page
on the OCZ Technology website...
Features and Specifications:
» Read: Up to 740 MB/s
» Write: Up to 690 MB/s
» Sustained Write: Up to 550 MB/s
» Random Write 4KB (Aligned): 100,000 IOPS
» 100GB capacity
» PCI-Express interface (x4)
» For use as primary boot drive or data storage
» 4 x SATA
» Internal RAID 0
» 181.07 (L) x 21.59 (W) x 125.08mm (H)
» Shock Resistance: 1500g
» Seek Time: 0.1 ms
» Operating Temp: 0°C ~ 70°C
» Ambient Temp: 0°C ~ 55°C
» Storage Temp: -45°C ~ 85°C
» Power Consumption: 4.3W Idle, 8.3W active
» MTBF: 2,000,000 hours
» 3-Year Warranty
» Compatible with Windows XP 32/64, Vista 32/64, Windows 7 32/64
Packaging and Accessories:
The RevoDrive X2 PCI Express SSD is sold in the somewhat sophisticated black box shown in the images below. The front just provides some higher level information that applies to all of the products in the line... In addition to the 100GB sample on hand, they also offer this drive with capacities of 160 GB, 220GB, 240GB, 360GB, 480GB, 720GB, and 960GB. The back of the box provides some more universal information, while a label in the corner offers us our only bit of product specific data.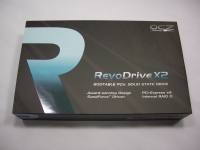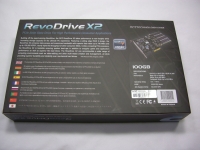 Inside the retail box we find a smaller, similarly styled box which houses the drive. as shown in the below right image, a foam block secures the drive, which is sealed in an anti-static bag. The only other items found in the box include a manual, and a "My SSD is faster than your HDD" sticker.