It had been over a year since we last looked at a memory kit from
OCZ Technology
, so we were pretty darn happy when they let us know they were sending their 4GB PC3-12800 Reaper ULV (Ultra Low Voltage) dual channel kit to us for review. This DDR3 kit is an updated version of their Reaper HPC (Heat Pipe Conduit) series, and this time around OCZ Technology has dropped the required voltage requirement from 1.65V to 1.5V, so it can now carry the moniker "Ultra Low Voltage".


The promotional image above offers a quick look at the PC3-12800 Reaper ULV dual channel kit, and before we take on the sample provided for review, let's take a closer look at some published data taken from the
official product page
on the OCZ Technology website...
OCZ Reaper Ultra Low Voltage (ULV) DDR3 kits are designed specifically to comply with that latest low-voltage CPUs including the Intel® P55 Chipset and subsequent Intel® Core™ i7, i5, and i3 (Socket 1156) processors, and AMD 7 Series / 8 Series Chipsets and X4/X6 CPUs. Configured for dual channel mode, these ultra-compatible kits ensure optimal performance with an ideal combination of improved lower power requirements and overclocking capabilities.
Specifications:
» 1600MHz DDR3
» CL 7-8-8-24(CAS-TRCD-TRP-TRAS)
» Available in 4GB Dual Channel kits
» Reaper HPC Heatspreader
» Unbuffered
» Lifetime Warranty
» 1.5 Volts
» Qualified on P55/Core i3,i5, i7 CPUs
» Qualified on AMD 7 Series/8 Series and X4/X6 CPUs
» 240 Pin DIMM
» Part# OCZ3RPR1600ULV4GK
Packaging:
OCZ Technology still uses same the tried-and-true packaging they have for the past few years - a very clean plastic case that opens easily but protects the modules well. The graphics on the front let you know that the modules inside are from their Reaper HPC DDR3 series and that they are of the Ultra Low Voltage variety. The labels on the modules can be seen through the plastic, and are quite clear regarding specifications so that you can see everything you are getting.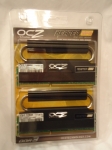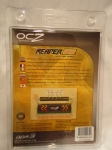 Flipping the package over gives you a quick blurb about these sticks, as well as a diagram on the basics of how the heatpipes work, some warranty information, and even the technical support phone number.