In Use:
The first thing I did was to pair one of the Mo speakers to my Android phone, and the process was about as simple as could be. Like many Bluetooth devices, it apparently goes into to pairing mode when first turned on, as I did not have to press the Bluetooth button on the speaker to get my phone to find it. After listening for a few minutes, i couldn't wait any longer and had to try the speakers unified as a stereo pair. This process requires powering up the second speaker, pressing an holding the Bluetooth button on the first speaker until the indicator LED turns green, and then pressing the Bluetooth button on the second speaker. Easy enough. What I learned through a bit of extra testing is that the first speaker paired to the phone is now the left channel, and the second speaker becomes the right channel.
One thing that startled me, and drew a bit of attention during these early steps, was that POW Audio implements some over the top acknowledgement "chimes". Whenever you turn on one of the Mo speakers, a female voice very loudly calls out "POW". I didn't like this when I first heard it, and the small crowd that gathered in my office had only barely dissipated when I decided to sync the two speakers together and that female now yelled out "UNIFIED". She seems like a nice enough lady, but she doesn't need to be using her outdoor voice to announce to the world each time I am using this Bluetooth speaker. When powering off the speaker the LED lights are already off making me think it has powered down when a short tune plays to confirm that it is being turned off.
The Mo speakers came pre-charged, but I was not sure if the batteries were full so I just ran them down without really paying attention to duration. I then charged the two speakers back up and this took about two hours before the LEDs on either speaker turned off to indicate that they were done charging. I then ran each one down separately while paying attention to the clock and saw that I got to almost 8 hours of play back time. Charging back up again took close to two hours, and this time I ran them down as a unified stereo pair. This time I got about 45 minutes less play back time, but still very respectable.
The sound is also very respectable. Don't set your expectations too high for such a small speaker, but there is decent full range coverage, with crisp highs and clear midrange. I would not say there is "bass", but the low end is detectable and it is much better than other small Bluetooth speakers I have that completely eliminate the lower sound range. At work I have the speakers mounted to a metal cabinet, at about eye level (while sitting) and about four feet apart and six feet from me, and overall I am very pleased with the sound. They are not tinny, they do not sound small, and they work very well together in stereo. Outside of the office I have used them outdoors and have been very please with how well they fill the space with sound. The magnets come in very handy, too, as they can connect to a plate in the roll cage of our off-road go kart, to the shelving in my garage,
I mentioned the cool accessories included with the Mo - the POW Wallet and the Universal Mount. The three images below show the POW Wallet, which lets you magnet a small card holder to your Mo Universal Mount.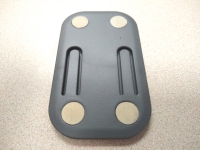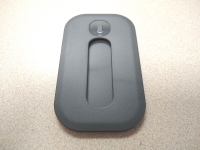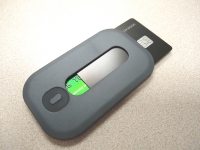 The Mo Universal Mount has an adhesive side that can be attached to the back of your mobile device, or honestly to any smooth surface that you want to use to mount your Mo speaker.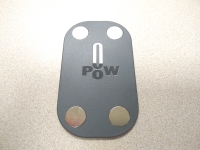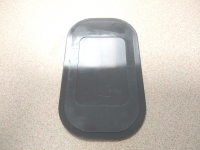 The next images show the Universal Mount on my phone attached to both the POW wallet and to the Mo speaker. While the magnetism is not as strong, it is possible to make a sandwich of phone, universal mount, POW wallet, and Mo speaker. I would only use that combo in a stationary setting, while using just one device attached to the universal mount is much stronger and could be used on the go.