Conclusion:
The
Piper
Computer Kit is really a great purchase for anyone with children that they would like to encourage towards STEAM related activities in a very fun and rewarding way. Both my nine year old son and I enjoyed the physical assembly and the adventures undertaken in story mode as we slowly added more functionality to the system. He was definitely learning and applying himself, but it was obvious he was also having fun. The tasks themselves were fun, but the way the story mode software is laid out allowed him to achieve the goals, unlock new levels, and proceed through the activities like so many of the games he plays that have little to no educational value.


The people at Piper have obviously spent a good deal of developing just about every aspect of this kit to make it easy enough for a child to do just about on their own with minimal help from their parents. From the blueprint's easy to follow instructions, to the fit and finish of the wooden pieces, to the simplicity of the onscreen instructions presented in a kid friendly manner - the uer's experience is enhanced by just how well this kit has been prepared.
The Piper Computer Kit as reviewed here sells for $299 from
Amazon.com
or directly from the
Piper website
. To me, this is a great price on a great investment. It is about what you might spend on a gaming console or a basic laptop, and it could possibly occupy as much of their time - but the Piper is not only entertaining and enriching them now, but perhaps helping them with future ambitions. Beyond the computer kit we reviewed, they do offer educator bundles with multiple kits, a selection of spare parts, premium support, and materials such as lesson plans. And whether purchased as a single kit or for a classroom, there are addon modules that will let the fun and learning continue, by letting you build a game controller, or add sensors like a range finder and temperature sensor.
The Piper Computer Kit STEM Learning Toy has been very enjoyable to have on hand, and I hope it continues to be used regularly in our house. All things considered, it earns the Bigbruin.com "Great Idea" and "Highly Recommended" awards.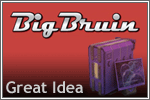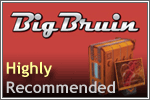 Pros:
» Extremely fun and rewarding, while also educational
» Excellently crafted and organized to make assembly straightforward
» The sense of accomplishment by the child is rewarding to see as a parent
» Software is regularly updated for new features to maintain user's interest
» Piper has additional modules available to expand on the kit, like the:
»
Sensor Explorer Kit
»
Command Center Game Controller
» Piper website offers plenty of help, a community forum, and replacement parts to help you along
Cons:
» Slight disconnect in instructions between the end of the mechanical assembly and first use of the system
» Pip's shrill voice may get to you after a while
Please drop by the Bigbruin.com Forum and feel free to post any
comments or questions
.