Conclusion:
The
Patriot Memory
Corza 2-Drive NAS enclosure is a great entry into the NAS market. It has all the features that a NAS should have (file serving, DHCP, and FTP), and includes several additional features such as iTunes, Bonjour, and a print server. The included software is easy to follow and allows a novice user to configure the Corza to their specific needs.


Most other NAS devices do not stand up to the quality of the Patriot Corza NAS. The metal chassis provides a solid device that will hold up very well; this is especially necessary if you take this unit to other locations (like LAN parties). Previous NAS devices I have used presented issues after frequent trips, but I doubt that the Corza will have issues due to it traveling with me.
There are two downsides to the Corza worth addressing. The first is the noise level... I was surprised at the noise level created by the fan. Positioned with other computer equipment it wasn't really noticeable, but when isolated it seemed quite loud. The second is that you can not connect to your PC via eSATA or USB in order to achieve faster transfer rates. Either of these two connection options would help speed things up when copying a large amount of data to the Corza.
The Patriot Corza offers all the things you should need in a NAS enclosure, and it includes a few bonus features, too. It can not compare to the more expensive NAS devices, however for the price it will be tough to beat. The Corza can be found online starting at about $130 (US), at places like
Newegg.com
,
where they are also offering a ($35.00) mail in rebate which takes the Corza down to $95. The extra savings thanks to the rebate is available through September 30, 2009.
The quality, features, and price of the
Patriot Memory
Corza 2-Drive NAS enclosure are a few reasons why it deserves the Bigbruin.com "Highly Recommended" award.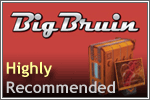 Pros:
» Standard NAS features, plus Print Server and iTunes Bonjour
» High quality construction
» Priced right
» Easy configuration
» Works on all modern platforms
Cons:
» Loud
» No USB or eSATA connection for faster transfers with a PC
Please drop by the Bigbruin.com Forum and feel free to post any
comments or questions
.