External Examination:
The
OCZ Technology
60GB Agility solid state drive is a 2.5" form factor drive with SATA data and power connections found at one end. Despite being the typical size and shape of any other 2.5" drive, I have to admit that the sideways mounted label makes it look different... Perhaps like an old game cartridge for a SEGA Genesis or the original Nintendo.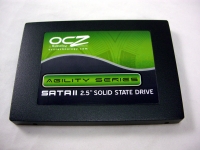 On the bottom of the drive we see another label, and on this one we get just a bit more information.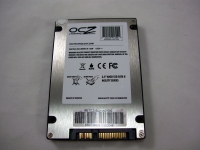 Internal Inspection:
Removing the cover requires a small allen wrench and the guts to remove the sticker letting you know that the warranty has now been voided. The below left image shows an overview of the drive's internals, while the rest of the images in this section take a closer look at some of the key components.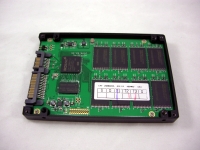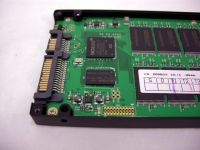 There is an Indilinx drive controller chip located in one corner and an Elpida chip providing 64MB of cache memory in the adjacent corner. A total of eight 8GB Toshiba brand MLC NAND flash chips are used to provide the storage space in the Agility.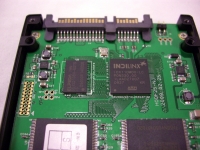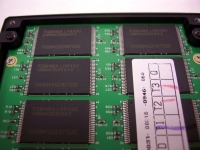 Of interest is that OCZ Technology doesn't go with the conventional approach of labeling this drive as 64GB, despite there physically being 64GB of memory onboard. They call it a 60GB drive, as many others should, because that "lost" 4GB is actually reserved for wear leveling and formatting purposes.