Internal Inspection:
After removing the side covers, we finally get a good look at the internals of the chassis. The first shot gives us a good idea of the room in here. We also get to see how NZXT secures the accessory box for shipment. The USB, eSATA, audio, and switch bundle cables are secured for shipment via a large twist tie. The mounting plate for the motherboard has some cutouts which are nice and do offer some minimal cable routing possibilities. Also worth noting is that the entire inside is painted black; no bare metal in here.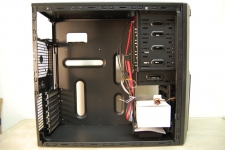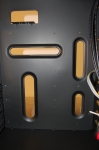 The front of the case show us the four 5.25" external drive bays, a lone internal 3.5" bay, and five 3.5" internal bays in the drive cage. While you might think the single 3.5" bay might be used for a floppy drive or card reader, it's not externally accessible so that is not an option. We also see the 3-pin and 4-pin connectors for the intake fan NZXT has included. The option to use either power connector is a nice feature.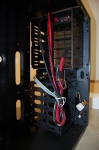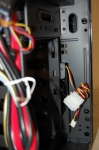 In the next picture, we get a close up of the useless "floppy bay" and the intake fan.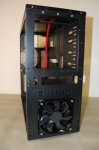 The included fan is NZXT branded and appears to be your standard 12V brushless, sleeve bearing variety for long life and quiet operation. After plugging it in, we see that it is a blue LED fan (the sticker marked "Blue" on the side should have been a dead giveaway). Unfortunately, our fan arrived with one dead LED, but behind the vertical bars and dust filter, you'd never know it. The lights are quite subtle and by no means overpowering - a nice touch since overpowering LEDs is one of my personal pet peeves. The fan is also dead quiet, which we love.