Conclusion:
The
Novostella
BLink BT Mesh Smart LED Flood Lights arrived just in time to make a good impression, contributing to my holiday lighting scheme, but they will continue to find use throughout the year with fun landscape lighting schemes, party lighting, and so on. They work well, are well made, and can easily be controlled via the Smart Life app and now via Google Assistant in our home (also works with Amazon Alexa for those on that platform). I presently have them on a timer through the Smart Life app and they all reliably go on and off as set.


Since I have had these lights on hand, I have noticed the pricing and promotions available at Amazon.com has fluctuated a bit, but as of right now (22DEC2021) this kit of four bulbs and the hub is selling for
$119.99 with free Prime shipping
, while the kit of four bulbs without the hub is $107.99, but with a $10 off coupon code on the page making its price
$97.99 with free Prime shipping
. So, that puts the lights at just under $25 each and we will call the hub about $22. If you look around you can find similar smart LED floodlights for less, but most are in this general ballpark. What I can say is that when I have chosen cheaper smart bulbs my experience has sometimes been poor, as the cheaper ones seem to require repairing on occasion. Not only do these cheaper lights lose smart functionality when losing their connection, but they also return to pairing mode where they just blink until you re-pair them. In the 10+ months I have had the other Novostella lights in my house, I have not had to re-pair any of them, and that is a big win, as it means they just work and that my family isn't getting annoyed with them.
The bottom line is that I really like the build, performance, and functionality of the
Novostella
BLink BT Mesh Smart LED Flood Lights, and they definitely earn the Bigbruin.com "Highly Recommended" award.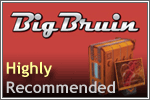 Pros:
» Lights are bright, vibrant, and very responsive
» Lights are all well made and ready for outdoor use
» BLink hub simplifies the control and connectivity of multiple lights
» BLink hub seems to keep groups of lights synced better than individual WiFi bulbs
Cons:
» Power adapter not included with BLink hub
» Similar lights from other manufacturers can be purchased for less
Please drop by the Bigbruin.com Forum and feel free to post any
comments or questions
.