Conclusion:
The
Western Digital
My Passport Ultra 1TB portable hard drive is a stylish little USB hard drive that delivers big performance. In testing it performed consistently well and was able to outperform a comparable 1TB drive from Seagate in all tests.
Many manufacturers now ship their drives with additional software included, and the My Passport Ultra is no exception. Western Digital has provided apps for securing your drive, automating backups, and performing various diagnostics on the drive. While it is convenient to have some of these offerings pre-bundled with the drive, you may have comparable applications already installed on your PC, or you might be able to get something similar for free if you look around. By the labeling on the box I assumed there was some sort of tie-in with Dropbox to provide a cloud backup, perhaps with some more free space included, but basically you get instructions on how to go about setting up your own Dropbox account. Again, while this may be convenient for some users, it is nothing WD specific or special related to the purchase of this drive.


Checking out the price shows that the 1TB Western Digital My Passport Ultra is currently available at
Amazon.com for $79 (US)
. Browsing the rest of their inventory shows that this price is fair and in the range of most options available. Compared directly to the Seagate BackUp Plus 1TB once again, we see that the WD offering is about $9 more expensive ($70 versus $79).
Given the price, performance, and styling, the Western Digital My Passport Ultra 1TB portable hard drive earns the Bigbruin.com "Highly Recommended" award.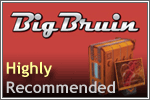 Pros:
» High speed USB 3.0 connection provides for super quick transfers
» Faster than comparable Seagate Backup Plus 1TB drive
» Security through password protection and drive encryption
» Available in a handful of colors and capacities
» Compact housing is aesthetically pleasing
Cons:
» More expensive than comparable Seagate Backup Plus 1TB drive
» Cloud feature is just instructions to go use Dropbox
Please drop by the Bigbruin.com Forum and feel free to post any
comments or questions
.